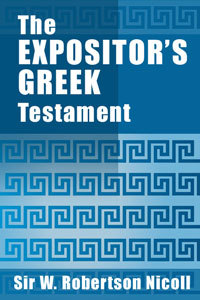 Expositor's Greek Testament
This title works with the following Wordsearch products
Desktop
Highlights
Nearly every word in the New Testament Greek is covered
Based off the Textus Receptus
Favorite of serious Bible students
Linked to Strong's Numbers
5 Volumes
Named as one of the 850 Books for Biblical Expositors by the Master's Seminary
Product Details
The Expositor's Greek Testament is a unique, in-depth commentary on the Greek New Testament. It will help serious students of the Bible create extensive sermons and Bible lessons.
A favorite of serious Bible students since first published in 1897, The Expositor's Greek Testament is still heavily consulted after more than a century. Each of the five volumes is filled with outstanding scholarship, accuracy, and attention to detail. Nearly every word in the New Testament Greek is covered. The Greek text used by the authors of this work is the Textus Receptus, the document originally used to translate the King James Bible.
In addition to verse-by-verse commentary, you'll also find:
Detailed introductions to every book of the New Testament
Deep analysis of most every New Testament Greek word
Grammatical, literary, and textual commentary
Links and bibliographies for further study in other works
The Expositor's Greek Testament was accomplished through the exhaustive work of 20 theologians. The work was overseen by Sir W. Robertson Nicoll, considered by many as "the greatest editor of all time." Sir Nicoll was involved in editing several other popular reference works available in Wordsearch, such as The Expositor's Bible, The Expositor's Dictionary of Texts, and The Sermon Bible. If you already have any of these works in your digital library, you'll find The Expositor's Greek Testament will be a resource that complements these other works.
Be sure to watch the demo video above and check out a sample of this material by by clicking on the yellow "Sample" button under the book cover on this page.
About the Editor
Sir William Robertson Nicoll was an ordained minister of the Free Church at Dufftown, Banffshire. In 1886 he moved south to London and began his editorship of The Expositor and the British Weekly, posts which he held for the rest of his life. He made the British Weekly widely influential, published several religious and secular books, was knighted in 1909, and was made a companion of honor (a prestigious order) two years before his death in 1923.
Nicoll was a prolific editor of expository works and left behind a literary legacy that has placed all preachers in his debt. This scholar is rightly remembered for such works as The Expositor's Bible, The Expositor's Dictionary of Texts, The Sermon Bible, and the Expositor's Greek Testament, all of which he edited.
Products Included In This Bundle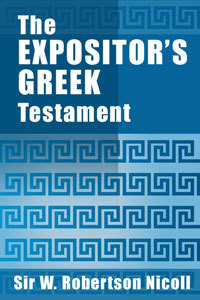 The Expositor's Greek Testament: Volume 1
The Expositor's Greek Testament: Volume 2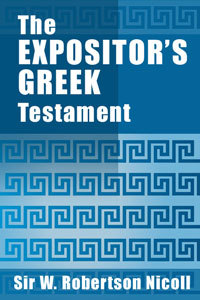 The Expositor's Greek Testament: Volume 3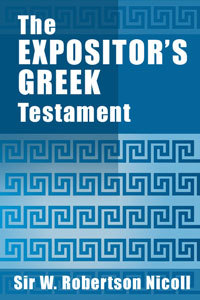 The Expositor's Greek Testament: Volume 4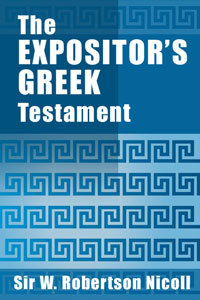 The Expositor's Greek Testament: Volume 5