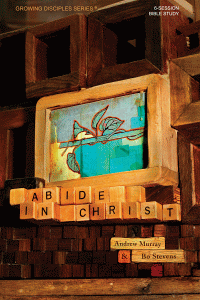 Growing Disciples: Abide in Christ
Product Details
The Growing Disciples Series is designed to help you disciple believers with a deliberate and highly-focused method. Using this series in Wordsearch will make your lessons even more relevant and personal. Ideal for small groups or Sunday school, you will guide students through a fully-developed understanding of the basic aspects of Christian faith. Together you can explore the Scriptures on important disciplines such as Bible reading, prayer, ministry to and fellowship with other believers, and evangelism.
Abide in Christ is a Bible study based on Andrew Murray's "The True Vine" and delivered in a contemporary, interactive format and contains 6 weekly lessons.
For example, this 6-week study is organized like this:
Week 1 - The True Vine
Week 2 - Abiding in the Vine
Week 3 - Bearing Fruit of the Vine
Week 4 - Bringing Glory to the Father
Week 5 - Loving and Obeying Christ
Week 6 - Fulfilling the Purpose of Christ
Each lesson breaks the week into 5 days, offering 5 specific actions for you to apply each day. For example, in Abide in Christ, your focus for each weekday would be:
Day 1: Previewing the Parable of the Vine
Day 2: The Vine
Day 3: The Vinedresser
Day 4: The Branch
Day 5: The Fruit
Take students through this volume and you'll be amazed by their levels of spiritual maturity.
Check out a sample of this volume by clicking on the yellow "Sample" button under the book cover on this page.
About the Author
Andrew Murray Jr. was born in Cape Town, South Africa in 1828. Andrew obtained his M.A. from Aberdeen in Scotland and then studied theology at the University of Utrecht in the Netherlands.
Andrew pastored churches in Bloemfontein, Worcester, Cape Town and Wellington, all in South Africa. He was an amazingly prolific Christian author. All of his publications were originally written in Dutch and then translated into English. As his popularity grew, Murray's books found their way into more than twelve foreign languages during his lifetime alone. He helped to found what are now the University College of the Orange Free State and the Stellenbosch Seminary. He served as moderator of the Cape Synod of the Dutch Reformed Church and was president of both the YMCA and the South African General Mission, now the Africa Evangelical Fellowship.