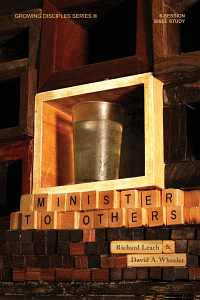 Growing Disciples: Minister to Others
Product Details
The Growing Disciples Series is designed to help you disciple believers with a deliberate and highly-focused method. Using this series in Wordsearch will make your lessons even more relevant and personal. Ideal for small groups or Sunday school, you will guide students through a fully-developed understanding of the basic aspects of Christian faith. Together you can explore the Scriptures on important disciplines such as Bible reading, prayer, ministry to and fellowship with other believers, and evangelism.
Minister to Others is 6-session Bible Study that's a valuable tool in assisting churches to increase their relevancy to the community while building relational bridges through meeting needs over which they would intentionally share the gospel. It includes a Leader's Guide, Discipleship Helps, and Scripture-Memory Cards that can be printed and passed out.
For example, this 6-week study is organized like this:
Week 1 - Connecting with God's Activity Around You
Week 2 - Confronting Barriers That Hinder Servanthood
Week 3 - Assessing Ministry Needs, Impacting Hurting People
Week 4 - Networking at Church to Extend Your Reach
Week 5 - Drawing Near to Christ
Week 6 - Passing the Baton of Service
Each lesson breaks the week into 5 days, offering 5 specific actions for you to apply each day. For example, in Minister to Others, your focus for each weekday would be:
Day 1: Watch a Bridge Builder
Day 2: Watch a Reliever
Day 3: Watch an Intercessor
Day 4: Watch an Encourager
Day 5: Watch a Personal Trainer
Take students through this volume and you'll be amazed by their levels of spiritual maturity.
Check out a sample of this volume by clicking on the yellow "Sample" button under the book cover on this page.
About the Authors
Richard Leach is the author of Growing Disciples: Minister to Others.
David Wheeler is a North American Mission Board national missionary and associate director of the Center for Church Planting at Liberty Baptist Theological Seminary.