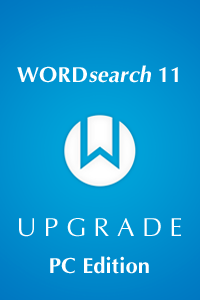 Wordsearch 11 for Windows - Download Only
This title works with the following Wordsearch products
Desktop
Highlights
Note: Your previously owned books will be imported when you upgrade to Wordsearch 11 or any Wordsearch 11 library.
Product Details
Wordsearch is better than ever before. With Wordsearch 11 we've made dozens of improvements and included many of the features you've been asking for.
Features of Wordsearch 11
New!

New Look

The first thing you'll notice is a new streamlined, simplified design. All the toolbar icons have been redesigned to help you find what you are looking for more quickly. We've also reduced visual clutter whenever possible. If there are icons you never use, you can now hide them so that the options you use are even more obvious and easy to find.

You'll also notice that the program now opens with 3 tabs across the top of the screen:

The Home Tab contains the "News Window" (used to be the EasyStart Screen) that gives you information on special sales and new releases.

The Library Tab is where you'll find all the Bibles and books in your personal library. The Library Tab also gives a graphical view of your library where you can browse by cover image.

The Study Tab is the workspace where you can study with Bibles, books, and the built-in word processor.
New!

LESSONmaker Integration

LESSONmaker is a tool for creating small group lessons and Sunday school lessons rapidly. Simply type in what Bible passage or topic you want to make a lesson from, and select the lesson materials you have in your library. If you are really pressed for time, you can hit the panic button, and a lesson will be instantly created for you. These lessons can be printed for classroom handouts or can be exported to PowerPoint.
New!

Cloud Backup/Restore

User data can now be safely backed up to the cloud. It's not only safer and more robust, it makes synchronizing two Wordsearch installations easy.
New!

Second Monitor Support

If you have a second monitor, you can now use it for an independently sizable workspace.
New!

NoteStack Window

Quickly and easily organize notes from any Bible or book. Add your own notes as well as topical tags. Each NoteStack card links back to the exact place in the book the card is quoting, allowing you to go back and read the full context of a quote. Keep track of which sermon illustrations or examples you've used throughout the year with these cards. Export/import abilities mean you can share some or all of your NoteStack cards with other Wordsearch users.
New!

Customizable Toolbar

You can choose which buttons appear on the main toolbar. (Go into Options > Toolbar.)
New!

Speedup Topic Explorer and Cross-Reference Explorer Speedup

Topic Explorer lookup is now virtually instantaneous even with extremely large libraries. Cross-Reference Explorer tested at 10 times faster than before for very large libraries, and even faster for medium-sized to smaller libraries.
New!

"Open Book" button on the Toolbar

If you know what book want to open, you can do so quickly without leaving the Study Tab.
Powerful Searching
Wordsearch has been heralded through the years for its powerful search capabilities and rapid response times, making it easy to discover and share new insights from God's Word. Search any word, phrase, topic, or Greek or Hebrew word in your entire library or select certain books you would like.
Anytime any of these books mentions what you searched will show up in the instantly resulting list. You can even search directly from the book have open with a SpeedSearch.
Cross-References
Your Wordsearch library contains thousands of references to Bible verses. You can use the Cross- Reference Explorer to quickly see every place in your library that contains a reference to the verse you are studying.
Parallel Bibles
The Parallel Bible window is the best way to compare multiple Bible translations. You can select any number of translations in the order you prefer, and you can display them in rows or columns. When you close the window and later reopen it, the window remembers the translations you previously picked and uses them again. In addition, you can search the Bibles directly from within the Parallel window itself, making it a powerful research tool.
Instant Verse Study
Instant Verse Study (IVS) is a tool that allows you to quickly gather Bible text and your own Bible notes and commentary on the selected verses. The window copies the selected texts to the Windows clipboard. You then paste it into either the internal word processor or an external one such as Microsoft Word. IVS is a great time-saver for doing lesson preparation. Simply enter the verse or verse range that you are interested in and with a single button click IVS will extract the relevant information from your favorite resources; just paste it and it's ready to print.
Verse List
The Verse List window creates verse-based outlines. With it, you can create topical studies, lessons, or even sermon outlines. You can organize verses by including named section headings. Sections can be expanded or collapsed. When a section is collapsed, you see only the section heading, not the verses for that section. Verses do not have to be in Bible order. You can attach notes to any section heading or verse.
Word Processor
The Wordsearch word processor allows you to create documents with the same powerful abilities as the rest of your Wordsearch library. The documents can be opened using the Library window, can be searched and are fully cross-referenced to the Bible. Any Scripture reference you type in the Word Processor window will automatically be turned into a hyperlink to the Bible.
Program Options Assistant
This is like having an expert at your side helping you set up. The first time you install WS11, the Assistant will intelligently guide you, setting defaults throughout your program. It's not mandatory (you can exit at any time), but it will make Wordsearch function exactly the way you like.
Desktop Templates
This mechanism allows you to set up a desktop template for a given activity and save it. When you open the desktop template and begin studying and opening other works, you can close it out knowing that it will return to its original state when you return to use it again. You won't have to set it up again after you use it and mess it up. This is a huge time saver for those who have specific patterns of studying.
Audible Pronunciation
A new Pronounce menu option allows you to audibly pronounce over 20,000 words. Just right-click a word, and if that word is in the audio database, you can hear the word spoken.
Facebook and Twitter Enabled
WS11 makes it easy for you to share anything with the world. We've added Facebook and Twitter buttons that allow you to post directly to these platforms without leaving Wordsearch.
Sermon & Illustration Organizer
This feature allows you to write or paste an illustration or sermon into the organizer, give it a title, assign a key scripture to it and apply multiple tags to it. Then you can do instant searches to find your illustrations or sermons and easily keep track of where and when each was used.
Verse Explorer
Here's how it works!
You put in a verse or range of verses. Verse Explorer will quickly work to deliver a report to you indicating the different dictionaries and commentaries you own that relate to the verse(s) you entered. For example, if the verse says, "Jesus talked with the disciples," and you have a dictionary with an article titled "Disciples," you'll find it in the report given. Click on a book name and you'll find more helpful details.
Morph Explorer
This lightning-fast feature lets you select any lemma (root word), lexeme (word form in a sentence) or parsing element (a specific tense, gender, number, etc.), search for it in relevant titles, and see results instantly. This is sure to be a helpful tool for those immersed in Greek manuscripts.
IMPORTANT: The Morph Explorer requires the Greek Morphology Bundle If you have previously purchased the Greek Interlinear, HCSB Reverse Interlinear or Friberg's Analytical Greek NT, then call us at (800) 888-9898 to get a free download of the Greek Morphology Bundle.
Most Recently Used Book List
Frequently, as we're doing a study, we end up opening and closing our most heavily used "go to" set of books. This handy tool allows you instant access to reopen your most recently used books.
Reading Planner
Now you can set up Bible reading schedules that include morning and evening readings. It also allows you to change reading days without having to scrap your entire plan and start over.
User Font Override
Wordsearch already allows you to make book text larger, but WS11 enables you to specify a font family too. For example, if you find Tahoma a more readable font, simply specify this in your settings and all books will use Tahoma throughout.
The New INFO Panel
One of the most loved features of Wordsearch is how your Bible verses pop up when you hover over a link. The Info panel makes that function even better with a new pane on the right side of your screen. Hover on a link and the Info panel displays that Bible text in the translation of your choosing. This means you can now easily copy and paste this text. You can put the Info panel away any time with a handy button at the bottom of your screen that toggles the panel on and off. When it's off, the pop-up scriptures work the same as they always have.
Improved Workbooks
Ideal for group Bible studies, workbooks present questions and quizzes that facilitate discussion and learning. In Wordsearch 11, you can now type in your answers and save them. You can also print out your questions for group study, or choose to print just the questions and answers that have been answered.
User Books is a new function that helps you to make your own books that you can save within your Wordsearch library. Each book you create gives you the option to set up by verse, like a commentary; by words, like a dictionary; or, by date, like a journal or devotional. You can also organize your table of contents as a flat list or like a tree.
Keep Your Wordsearch Up-To-Date
Your Wordsearch library is a worthy investment in your commitment to study God's Word. Using the most up-to-date version makes the most of your investment and results in blessings to those who benefit from your ministry.
Products Included In This Bundle