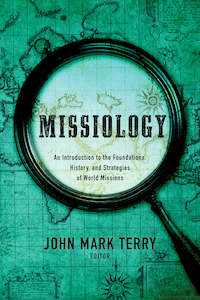 Missiology
An Introduction
Product Details
Below are instructions to access your copy of Introduction to Global Missions through www.myWSB.com after it is purchased through this site.
1) Navigate to www.myWSB.com
2) If you have never registered an account on myWSB.com, please click on the "New User? Register Here!" button. If you already have an account, proceed to step 4.
3) Fill out the fields with your information to complete the initial registration.
4) After the registration is done, click on "My Account" in the upper right part of the screen.
5) Look for the tab on the far right that says "Linked IDs" and click on it.
6) This should bring up a page that says "WORDsearch Bible Not Linked".
7) Click on the "Link" button on the right part of that menu.
8) On this part, use the same email address and password combination that you used on wordsearchbible.com.
9) Once the email/password information is added, click on the "Link My Account" button.
10) It will load the linked ID.
11) Once that pop up box disappears, click on "Library" in the left toolbar.
This title, plus your other owned WORDsearch resources, will now show in your library list.

Thoroughly updated and revised—with half of the chapters new to the second edition—Missiology equips the reader with a vast resource on contemporary missions. This graduate-level introduction is divided into five sections (Introduction to the Study of Missiology, Biblical Basis of Missions, Theology of Missions, and Applied Missiology) and offers essays on modern missions issues and methods such as contextualization, spiritual warfare, and orality, as well as chapters on major world religions and cults in North America.
A retired missionary and long-time professor of missions, editor John Mark Terry enlists a wide range of evangelical authors, most with significant experience in international or North American missions. Pastors will find helpful information on church planting in North America and on developing a missions-minded church. Students will benefit from the chapters on understanding the call to missions and the current status of world evangelization. All readers will profit from a valuable one-volume reference work on missions.

About the Editor:
John Mark Terry currently serves as Professor of Missions at Mid-America Baptist Theological Seminary in Cordova, Tennessee. He earned his PhD in missions at Southwestern Baptist Theological Seminary in Fort Worth, Texas. He and his wife Barbara served 24 years in the Pacific Rim with the International Mission Board of the Southern Baptist Convention. They have two children and four grandchildren. He has also taught at Southern Philippines Baptist Seminary, Asia Baptist Graduate Theological Seminary, Southwestern Baptist Seminary, and Southern Baptist Theological Seminary. He served as the Academic Dean at Clear Creek Baptist Bible College, and as Associate Dean of the Billy Graham School at Southern Baptist Seminary. He is a member of the Evangelical Missions Society and served as a vice president of the EMS.