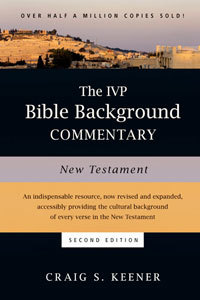 The IVP Bible Background Commentary - New Testament, Second Edition
This title works with the following Wordsearch products
Desktop
Highlights
1995 Christianity Today Book of the Year
Covers every verse of the New Testament
Includes a glossary of historical terms, ancient people, texts and inscriptions
Expanded explanations of background issues
Named by the R. C. Ryan Center for Biblical Studies as one of the Best Tools for Preaching and Teaching
Named as one of the 850 Books for Biblical Expositors by the Master's Seminary
Named one of the Best 100 Christian Books Ever Written by Frank Viola
Note: If you already own the firste edition IVP Bible Background Commentary New Testament, call us and we'll be happy to upgrade your New Testament volume to the second edition included in this bundle for just $10.
Product Details
To understand the Bible, understanding the cultural background of each passage is important in helping you to know the author's purpose for writing the book and why they did.
The IVP Bible Background Commentary is a unique, accessible commentary that helps you discover what it was like to actually be there when you are reading the Bible. Verse-by-verse, you are given all the background information you need to understand the local manners and customs of ancient times and cultures. You'll become aware of what the people in the Bible were thinking and what was going on in their daily lives. Reading this work will shed valuable light that will even help your other commentaries make more sense.
This New Testament volume is the second edition, with its 816 pages completely updated and revised. Fifteen percent of the material is new and from the most recent discoveries in archaeology and scholarship.
Knowing the background of the Bible can help you in sermon preparation, Sunday school lessons, seminary students, and anyone who wants to deepen their study of the Bible.
Check out a sample of this commentary by clicking on the yellow "Sample" button under the book cover on this page.
About the Author
Craig S. Keener earned his Ph.D. in New Testament and Christian Origins at Duke University. Dr. Keener taught Bible at Hood Theological Seminary, the seminary of the A.M.E. Zion church. He has preached and has taught and trained ministers in various parts of Africa, primarily Nigeria, Cameroon, and Kenya. He currently serves as an associate minister at Enon Tabernacle Baptist Church. He is the Professor of New Testament at Palmer Theological Seminary of Eastern University.Craig has authored fourteen books, some for academic and some for general audiences. Three of his commentaries have won Christianity Today book awards.
Endorsements
This is a splendid book to have next to your Bible...a fascinating Bible study resource.
In the American Christian publishing world, a world filled with adequate but probably unnecessary commentaries and Christian helps, Craig Keener...has done the remarkable. He has produced a work that was genuinely needed but not envisioned—until now.
One of the most useful available reference tools for pastors and laypeople alike, and I frequently recommend it from the pulpit. The reader simply has to look up his comments on a passage to find out, for example, why it was momentous that the prodigal son received sandals and a ring when he returned to his father. Although background material is often notoriously slippery and debatable, Keener makes it useful for students of the Scripture.
Keener succeeds in being informative and, this reviewer thinks, more than fair in trying not to impose his views on the texts...Keener, as he promised, wrote a 'popular' rather than a scholarly book. Keener's scholarly credentials are strong and his book is a God-send to busy pastors. As already indicated, it is of great help to Bible students who do not have access to a theological library.
Specifically designed to meet the needs of pastors and students who have less access to scholarly resources and less time to mine exegetical details. As such, it is extremely accessible and user friendly, a welcome addition to the pastor's bookshelf.
Carefully researched yet accessible for the busy pastor or other reader, this commentary puts years of research at the reader's fingertips, passage by passage, in a single volume.