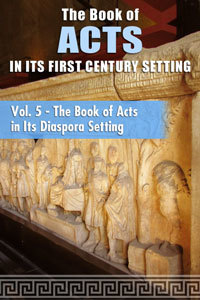 The Book of Acts in the Diaspora Setting
Volume 5 of Acts in Its First Century Setting
Product Details
The series The Book of Acts in its First Century Setting presents the results of interdisciplinary research between New Testament, Jewish, and classical scholarship. Working to place the Book of Acts within its first-century setting, well-known historians and biblical scholars from Australia, the United States, Canada, Russia, and the United Kingdom have collaborated here to provide a stimulating new study that elucidates the Acts of the Apostles in its literary, regional, cultural, ideological, and theological contexts.
In The Book of Acts in Its Diaspora Setting, the fifth volume in this groundbreaking series, Irina Levinskaya provides an important new study of the relation of Jews to the societies in which they found themselves during the period of dispersion. Drawing from impressive archaeological research, Levinskaya surveys commonly held views about this difficult aspect of Jewish history and challenges particularly the views of such scholars as Feldman regarding the true nature of Jewish missionary activity. According to Levinskaya, Diaspora Jews were looking not for formal comforts, but for "God-fearers" who helped them to maintain good relations with their neighbors and with Roman authorities. Luke shows a deep historical understanding of this situation by his close attention in Acts to the significance of this group in early Christianity.
Endorsements
At last we have a searching, in-depth analysis of Acts as history by an ancient historian of top quality...Levinskaya approaches the material head-on, bringing to bear her considerable learning and her formidable skill with the Greek inscriptions that are often the most important counterweight to Luke's picture. The Jewish Diaspora has benefited from extensive interest in recent research. Levinskaya enters the fray with vigor. But she has at the same time a great deal to offer that is new and important. Her notable studies of the cult of the Most High God and of Judaizers in the Black Sea area will reshape our understanding. To more familiar areas she brings her own subtle and original approach. Acts emerges from her scrutiny with a cleaner bill of health than we might have expected.
This magisterial study by a young Russian scholar not only clarifies many controversial questions about the Jewish Diaspora and its religious activities in the Roman Empire, but it also demonstrates the historical reality and trustworthiness of Luke's report about Paul's teaching in the synagogues and the importance of the pagan God-fearers. A masterpiece of genuine historical and philological method in using ancient epigraphical and literary sources.