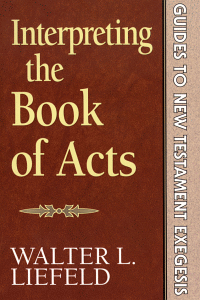 Interpreting the Book of Acts
Guides to New Testament Exegesis Series
Product Details
The diversity of material in the Book of Acts demands a variety of exegetical tools and strategies. Since speeches constitute over 30% of the text, the interpreter must be adept at handling discourses as well as narrative.
Interpreting the Book of Acts presents the fruit of the author's thirty-year reflection on the Lukan corpus. With a sure hand he guides the reader through numerous approaches to the text. Literary purpose and structure, narrative theology, discourse analysis, cultural backgrounds—all are exploited for insight. Yet throughout, the author keeps in view the practical needs of the student and pastor, breathing a spiritual warmth into the applications he makes.
Guides to New Testament Exegesis introduces the key New Testament genres and the principles needed to exegete them. Each guide surveys the breadth of scholarly opinion, while focusing on the practical implications for interpretation.
About the Author
Walter L. Liefeld is distinguished professor emeritus of New Testament at Trinity Evangelical Divinity School. He is the author of New Testament Exposition as well as a commentary on Luke (Expositor's Bible Commentary) and is co-author of Daughters of the Church. His Ph.D. is from Columbia University and Union Theological Seminary.