Biblical Counseling Library
Author: June Hunt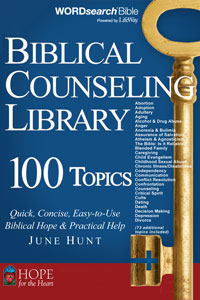 Product Highlights
100 different outline-format Biblical Counseling Keys
An indispensable resource for any pastor, preacher, teacher, or counselor's library
A $300 value
Product Details
In ministry, we will all encounter the hurts of life—it may be divorce, addictive personalities and behaviors, depression, death, or any number of the heart-wrenching challenges life throws our way. People are hurting and will come to you asking for advice often if you are involved in ministry.
Having a tool in that moment to provide care, hope, and concern could literally be a life-saver.
The Biblical Counseling Library is just that tool. It will help you offer sound, biblical counseling to hurting people. This collection reinforces the importance of Christ-centered living while providing advice on the 100 different real-life topics.
The team of licensed ministers and certified counselors of Hope for the Heart Ministries have identified 100 Key Counseling Topics. For biblical and practical advice for overcoming these problems, they then published 3,000 pages of advice that you can use in WORDsearch.
Each topic guides you along the same four-point outline:
Definitions allow you to fully understand the topic
Characteristics help you identify cues, symptoms, and reactions
Causes help you find the sources of the problem
Steps to Solution offer practical applications and helpful encouragement
Each counseling key also provides a page of memory Bible verses that are relevant to the topic covered. These memory verses can easily be printed out and cut into convenient, wallet-sized cards to give to the counselee.
With WORDsearch, you can access the Biblical Counseling Library's advice much easier and faster than the printed edition. You can quickly search the wealth of biblical advice on any topic by typing in a term, cross-reference with other tools that address the same topics, print counseling guides, or email excerpts to anyone who might need some encouragement.
Learn more about how the Biblical Counseling Library can assist you in your ministry by watching the short demo video below.
Check out a sample of these resources by clicking on the yellow "Sample" button under the book cover on this page.
About the Author
June Hunt is CEO & Founder of Hope For The Heart, which she founded in 1986. Hope For The Heart offers hope and help through biblically-based counsel and encouragement to people in 26 countries. June is also a prolific author and has written many books.
Included Products
Biblical Counseling Keys - Boundaries
Biblical Counseling Keys - Abortion Prevention
Biblical Counseling Keys - Adoption
Biblical Counseling Keys - Adultery
Biblical Counseling Keys - Aging
Biblical Counseling Keys - Alcohol & Drug Abuse
Biblical Counseling Keys - Anger
Biblical Counseling Keys - Anorexia & Bulimia
Biblical Counseling Keys - Atheism & Agnosticism
Biblical Counseling Keys - Caregiving
Biblical Counseling Keys - Child Evangelism
Biblical Counseling Keys - Childhood Sexual Abuse
Biblical Counseling Keys - Chronic Illness/Disabilities
Biblical Counseling Keys - Codependency
Biblical Counseling Keys - Communication
Biblical Counseling Keys - Conflict Resolution
Biblical Counseling Keys - Confrontation
Biblical Counseling Keys - Counseling
Biblical Counseling Keys - Critical Spirit
Biblical Counseling Keys - Cults
Biblical Counseling Keys - Dating
Biblical Counseling Keys - Death
Biblical Counseling Keys - Decision Making
Biblical Counseling Keys - Depression
Biblical Counseling Keys - Divorce
Biblical Counseling Keys - Employment
Biblical Counseling Keys - Envy & Jealousy
Biblical Counseling Keys - Ethics & Integrity
Biblical Counseling Keys - Euthanasia
Biblical Counseling Keys - Evil and Suffering... Why?
Biblical Counseling Keys - Fear
Biblical Counseling Keys - Financial Freedom
Biblical Counseling Keys - Forgiveness
Biblical Counseling Keys - Friendship
Biblical Counseling Keys - God: Who Is He?
Biblical Counseling Keys - Grief Recovery
Biblical Counseling Keys - Guilt
Biblical Counseling Keys - Habits & Addictions
Biblical Counseling Keys - Homosexuality
Biblical Counseling Keys - Hope
Biblical Counseling Keys - Identity: Who Are You?
Biblical Counseling Keys - Intimacy
Biblical Counseling Keys - Islam
Biblical Counseling Keys - Jehovah's Witnesses
Biblical Counseling Keys - Jesus: Is He God?
Biblical Counseling Keys - Jewish Fulfillment
Biblical Counseling Keys - Loneliness
Biblical Counseling Keys - Lying
Biblical Counseling Keys - Manipulation
Biblical Counseling Keys - Marriage
Biblical Counseling Keys - Mentoring
Biblical Counseling Keys - Mormonism
Biblical Counseling Keys - New Age Spirituality
Biblical Counseling Keys - Overeating
Biblical Counseling Keys - Parenting
Biblical Counseling Keys - Perfectionism
Biblical Counseling Keys - Pregnancy... Unplanned
Biblical Counseling Keys - Prejudice
Biblical Counseling Keys - Premarital Counseling
Biblical Counseling Keys - Pride & Humility
Biblical Counseling Keys - Procrastination
Biblical Counseling Keys - Prosperity Gospel
Biblical Counseling Keys - Purpose in Life
Biblical Counseling Keys - Rape Recovery
Biblical Counseling Keys - Reconciliation
Biblical Counseling Keys - Rejection
Biblical Counseling Keys - Salvation
Biblical Counseling Keys - Satan, Demons & Satanism
Biblical Counseling Keys - Self-Worth
Biblical Counseling Keys - Sexual Addiction
Biblical Counseling Keys - Sexual Integrity
Biblical Counseling Keys - Single Parenting
Biblical Counseling Keys - Singleness
Biblical Counseling Keys - Spiritual Abuse
Biblical Counseling Keys - Spiritual Warfare
Biblical Counseling Keys - Stealing
Biblical Counseling Keys - Stress Management
Biblical Counseling Keys - Success through Failure
Biblical Counseling Keys - Suicide Prevention
Biblical Counseling Keys - Teenagers
Biblical Counseling Keys - Temptation
Biblical Counseling Keys - Terminal Illness
Biblical Counseling Keys - Assurance of Salvation
Biblical Counseling Keys - Bible: Is It Reliable?
Biblical Counseling Keys - The Blended Family
Biblical Counseling Keys - The Dysfunctional Family
Biblical Counseling Keys - The Holy Spirit
Biblical Counseling Keys - Midlife Crisis
Biblical Counseling Keys - The Occult
Biblical Counseling Keys - Time Management
Biblical Counseling Keys - Trials
Biblical Counseling Keys - Unbelieving Mate
Biblical Counseling Keys - Verbal & Emotional Abuse
Biblical Counseling Keys - Victimization
Biblical Counseling Keys - Widowhood
Biblical Counseling Keys - Wife Abuse
Biblical Counseling Keys - Workaholism
Biblical Counseling Keys - Worry
Biblical Counseling Keys - Bullying
Biblical Counseling Keys - Violence