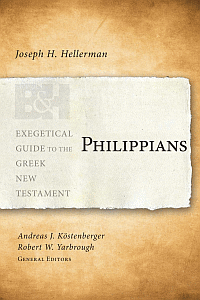 Exegetical Guide to the Greek New Testament: Philippians
Highlights
Brief introduction on authorship, date, occasion, and purpose
List of recommended commentaries
Extensive exegetical notes
Comprehensive exegetical outline
Product Details
The Exegetical Guide to the Greek New Testament (EGGNT) closes the gap between the Greek text and the available lexical and grammatical tools, providing all the necessary information for greater understanding of the text. The series makes interpreting any given New Testament book easier, especially for those who are hard pressed for time but want to preach or teach with accuracy and authority.

Each volume begins with a brief introduction to the particular New Testament book, a basic outline, and a list of recommended commentaries. The body is devoted to paragraph-by-paragraph exegesis of the Greek text and includes homiletical helps and suggestions for further study. A comprehensive exegetical outline of the New Testament book completes each EGGNT volume.
Endorsements
With this handbook, you will benefit from the expertise of one who is at the same time a Roman historian, a Greek scholar, and a pastor who regularly preaches the word of God.
Hellerman has done the seemingly impossible—presented detailed exegetical and grammatical material in wonderfully readable prose. His concise and thorough explanation of the Greek text lays the ground for exploring Paul's theology and instruction to the church…Students, pastors, and professors will want this volume close at hand when preparing a sermon or lecture.
Thankfully, there is an explosion of interest today in doing Greek exegesis, but pastors and students need help, and there simply isn't time to cover all that is needed in the classroom. Kellerman's work on Philippians is a model for what is needed…I recommend Hellerman's commentary enthusiastically.
Clear, concise, accurate—these are the things I'm looking for in a commentary. Joe Hellerman's exegetical handbook on Philippians is a model for all three qualities.