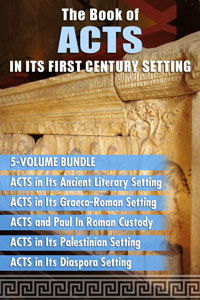 The Book of Acts in Its First Century Setting
5 Volume Bundle
Product Details
The book of Acts tells a remarkable story. In 28 short chapters it spans the ascension of Christ, Pentecost, the conversion of Paul, imprisonments, shipwrecks, stonings, and the birth of the Christian church throughout the western world.
Reading through Acts can make you want to go deeper into the world and the culture of the first apostles. Thanks to the exhaustive research of New Testament scholars, each volume in this set of The Book of Acts in Its First Century Setting will take you deeper into the world of the first century than ever before.
Thanks to recent archaeology, we now have thousands of ancient writings and historical artifacts to give us insight into the world of the Mediterranean first century. An all-star team of well-known historians and biblical scholars from Australia, the United States, Canada, Russia, and the United Kingdom have collaborated to make this work available for anyone studying the book of Acts. The authors divided this set into the following 5 volumes:
The Book of Acts in Its Ancient Literary Setting compares the writings of Luke (the author of Acts) to those of others in the ancient world, authors such as Cicero, Polybius, and Sallust. Also considered are fragmentary evidence, Apologetic & Hellenistic Jewish Historiography, and more. The literary evidence is rich, deep, and academic. This volume contains heady stuff, but don't get bogged down here. The following 4 volumes contain more fascinating details that bring the book of Acts to life.
The Book of Acts in Its Graeco-Roman Setting examines modes of travel by land and sea. Also discussed are the Roman roads of Asia Minor, food shortages, the Roman religion, urban elites, the house church, churches in Syria, Cyprus, and Asia. These studies draw on recent archaeological fieldwork and epigraphic discoveries to describe the key cities and provinces within the Roman Empire.
The Book of Acts and Paul In Roman Custody - Nearly 25% of Acts concerns Paul's final arrest and imprisonment. Discover details about the legal system in the Roman empire, purposes and varieties of severity, and degrees of punishment in the Roman world. You'll learn about the role of magistrates in sending people into custody, Paul's citizenship and status, conditions of release, and more. Compare Paul's prison experience with that of many others recorded in Roman history.
The Book of Acts in Its Palestinian Setting - Learn details about the locations of different cultures in the second temple palestine, Jews versus Greeks, details as told by Josephus, Roman policy in Judea, the geography of Acts, Chief Priests, Sadducees, Pharisees, Sanhedrin, and Synagogues in Acts. You'll also learn about the population of Jerusalem, Jewish prayer literature, Palestinian culture, Jewish activity against the Christians, Paul's pre-Christian career, and more.
The Book of Acts in Its Diaspora Setting - The diaspora is of course, the scattering of the Jewish nation outside of Israel. There is much to be said about this in the book of Acts. This volume discusses Proselytes (with debates on whether or not Judaism was a missionary religion), God-Fearers, cults, the Bosporan Kingdom, literary evidence, and churches in Antioch, Asia Minor, Macedonia, Achaia, and Rome.
Used in seminaries, this set is used to immerse students in New Testament culture, and it's peppered throughout with footnotes. In Wordsearch, simply hover your cursor over a footnote, and what pops up for you is more information and sources.
Check out a sample of this series by clicking on the Sample button. Read more about each included volume by clicking on their book cover image below.
Endorsements
At last we have a searching, in-depth analysis of Acts as history by an ancient historian of top quality...Levinskaya approaches the material head-on, bringing to bear her considerable learning and her formidable skill with the Greek inscriptions that are often the most important counterweight to Luke's picture. The Jewish Diaspora has benefited from extensive interest in recent research. Levinskaya enters the fray with vigor. But she has at the same time a great deal to offer that is new and important. Her notable studies of the cult of the Most High God and of Judaizers in the Black Sea area will reshape our understanding. To more familiar areas she brings her own subtle and original approach. Acts emerges from her scrutiny with a cleaner bill of health than we might have expected.
The Books of Acts in Its Ancient Literary Setting offers a number of quite fresh approaches to Acts...A dozen different genres or types of document are explored here, resulting in a rich mix of options. Acts emerges from its isolation into a world of contemporary rhetoric and contextual plane...A most attractive entrée to a promising series
An important contribution to a new and better understanding of Luke's Acts in its true literary and historical context. This work is coming at just the right time, when a change in the older pseudocritical but (in reality) unhistorical assessment of Luke is becoming visible. It shows that Luke is a real Hellensitic historian writing a monograph about the history of a new messianic Jewish sect called 'Christians'. This group of highly qualified authors gives a convincing overview from quite different perspectives, helping us to do more justice to Luke and to better understand his fascinating early Christian author.
The results of our rapidly expanded historical and archaeological knowledge have here been brought to bear on the Book of Acts to stunning effect. Outstanding as Jackson and Lake was in its day, this volume on the Graeco-Roman setting of Acts holds out the promise of equaling if not surpassing that great achievement.
This well-written volume offers a remarkable, up-to-date collection of relevant new data to assist in scenario formation for a considerate reading of the Book of Acts. The largely Australian and British team of authors must be congratulated for preparing this very useful data set. There are authoritative descriptions of travel, of food supply, of domestic and political religion, of urban elites, and of the Eastern Mediterranean provinces and their leadership. Such information about the realia of the Graeco-Roman world will enable the interpreter of Acts to bring these data to bear in the process of interpretation. . . Of great use to ancient historians, classicists, and biblical scholars, yet written and presented in such a way that it will be fascinating to intelligent nonprofessionals as well.
Products Included In This Bundle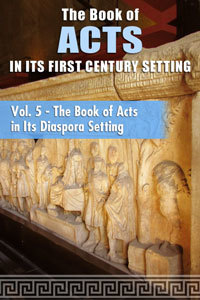 Volume 5 of Acts in Its First Century Setting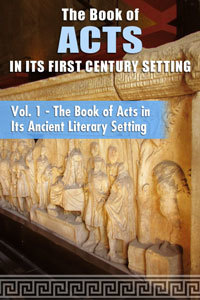 Volume 1 of The Book of Acts in its First Century Setting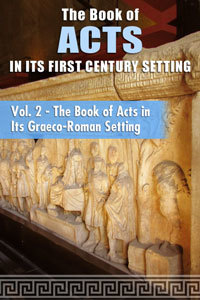 Volume 2 of Acts in Its First Century Setting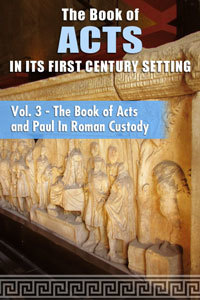 Volume 3 of Acts in Its First Century Setting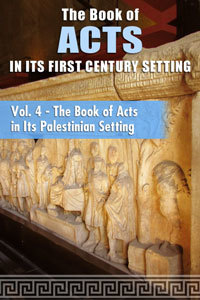 Volume 4 in Its First Century Setting