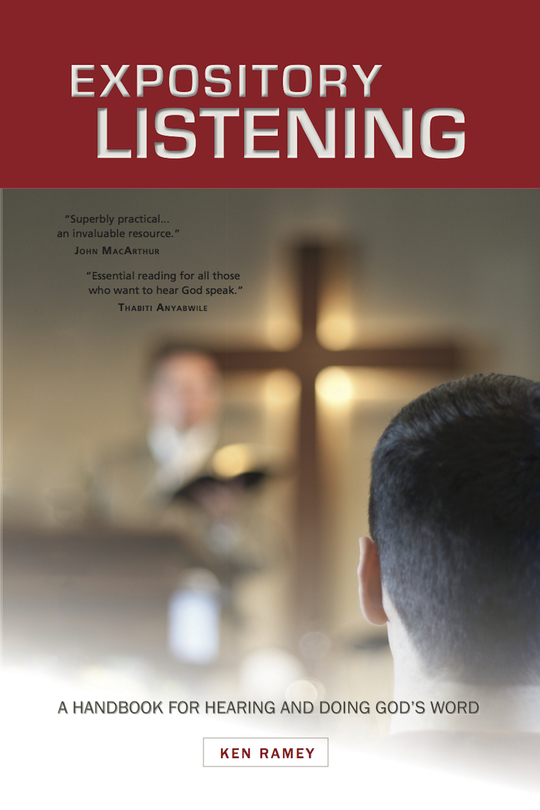 Expository Listening
A Handbook for Hearing and Doing God's Word
Product Details
"Do not merely listen to the word, and so deceive yourselves. Do what it says."––James 1:22 In many people's minds, if they don't get anything out of the sermon, it's the preacher's fault. But that's only half true. The Bible teaches that listeners must partner with the preacher so that the Word of God accomplishes its intended purpose of transforming their life.
Expository Listening
is your handbook on biblical listening. It is designed to equip you not only to understand what true, biblical preaching sounds like, but also how to receive it, and ultimately, what to do about it. You need to know how to look for the Word of God, to love the Word of God, and to live the Word of God. In this way, God and His Word will be honored and glorified through your life.
About the Author:
Ken Ramey is a graduate of The Master's Seminary in Southern California and serves as the pastor-teacher of Lakeside Bible Church in Montgomery, Texas.
Endorsements
I have a couple shelves full of books about expository preaching, all aimed, of course, at pastors. This is the first book I've ever read that offers insight and instruction for laypeople regarding how to listen to expository preaching. It's a superbly practical—and long overdue—handbook, covering the subject thoroughly yet clearly and concisely. Ken Ramey is a fine preacher and expositor himself with a shepherd's heart and a wonderful gift for teaching. I'm very grateful he has tackled this subject and given the church such an invaluable resource.
It is a powerful combination when a well-prepared preacher encounters a well-prepared congregation. Unfortunately, Christians often think it is the pastor alone who has an obligation to do any real preparation for the preaching event. The Bible has much to say to the contrary. I am grateful for Ken Ramey's urgent call for all Christians to heed scriptural instructions regarding how we are to embrace the exposition of His Word. Expository Listening is a much-needed handbook for this neglected aspect of church life. It is my hope that God will mightily transform many congregations as preachers and listeners take their biblical roles seriously.
Nothing could be more important to the Christian life than skillful listening. Our God speaks. So it's vital that we hear and hear well. Hearing well involves absorbing the meaning of the speaker, in this case God. So Ken Ramey's thoughtful work in Expository Listening is nothing less than essential reading for all those who want to hear God speak and know the meaning of His Word. Take up this book, read, and listen.
As Christians, we (rightly!) have high expectations of our pastors as they preach the Word of God. We expect that they will dedicate themselves to studying and understanding the Bible, that they will live lives marked by their commitment to holiness, that they will expend the effort necessary to craft gospel-centered, Spirit-empowered sermons. In short, we expect that they will come to the pulpit prepared, having dedicated themselves to the task they've been called to. How odd it is, then, that we are content to have such low standards for our own preparation? In this book, Ken Ramey shows that we ought to have equally high expectations of our- selves. For while the pastor preaches, we are to be attending to the Word, actively seeking to listen, to understand, to discern, to apply. Expository preaching demands expository listening. If you struggle to listen, if you struggle to know why you should listen, prayerfully read this book and heed its lessons.