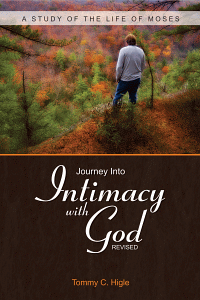 The Journey People and Topical Series: Journey into Intimacy with God, Revised
A Study of the Life of Moses
This title works with the following Wordsearch products
Desktop
Product Details
About The Journey Series®
Author Tommy Higle knows that every Bible study is an adventurous journey. The Journey Series® is a library filled with insight and practical lessons that Higle, a seasoned pastor, spent years writing.
The Journey Series® is written for hungry students of God's Word. Each book is a series of lessons designed to be used for personal study, small groups, or Sunday school. Many pastors say they use The Journey Series® as ready-to-preach sermons. Over 12,000 churches have used this wonderful resource.
About Journey into Intimacy with God, Revised
This is a 13-lesson study of the life of Moses. No one in the Old Testament demonstrates an intimate relationship with God better than Moses.
Lesson titles include: Drawing Closer to God, Excuses We Give for Not Serving God, The Danger of Not Listening to God, How To Be Blessed Greatly by God, When You're "Between a Rock and a Hard Place," How God Increases Our Faith, Resources for Winning Life's Battles, Ten Principles for Successful Relationships, How To Avoid Sin, Getting a Glimpse of God's Glory, Defeating Discouragement, and How To Be Close to God Forever.
This volume is part of The Journey People & Topical Series. People & Topical Series takes a focused look at individual books of the Bible examines Bible characters, plus important Bible topics.
Check out a sample by clicking on the yellow Sample button underneath the book cover image.
About the Author
After 47 years of pastoring six churches in Arkansas and Oklahoma, Tommy Higle now focuses on writing and on teaching pastors around the world. His Bible studies, called The Journey Series®, have been used by thousands for churches in all 50 states and at least 25 other countries. More than one and a half million "Journeys" have been sold. Higle is known for clear, simple exposition with practical application.
The Journey Series® is the registered trademark of Tommy Higle Publishers, Inc.