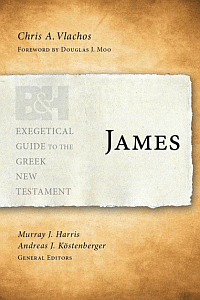 Exegetical Guide to the Greek New Testament: James
Highlights
Brief introduction on authorship, date, occasion, and purpose
List of recommended commentaries
Extensive exegetical notes
Comprehensive exegetical outline
Product Details
As students and ministers of God's Word, you know that the closer you can get to the original texts, the better you can preach, teach, and understand the Bible. The Exegetical Guide to the Greek New Testament (EGGNT) is written and researched to provide all the necessary information for understanding the Greek text. Each volume also includes homiletical helps and suggestions for further study.
The EGGNT was written to serve a wide variety of readers. If you are consulting the Greek text for the first time you will appreciate the assistance with vocabulary, parsing, and translation. If you have some experience in Greek you may want to skip or skim these sections and focus attention on the discussions of grammar. More advanced students may choose to pursue the topics, references, and technical works under "For Further Study." Pastors will enjoy the transitions from grammatical analysis to sermon outline. Teachers will appreciate having a resource that frees them to focus on exegetical details and theological matters.
Many of the other reference tools in your digital library will be enhanced with the EGGNT alongside them. Having a Bible, the EGGNT, and a Greek interlinear open side-by-side can make it easy to consult a passage in English and see the text in Greek with each word transliterated and translated. The EGGNT takes you deeper into the original text, pointing out details and nuances that might otherwise be overlooked. Furthermore, the EGGNT makes "Homiletical Suggestions," nuggets of gold for your preaching and teaching.
The EGGNT will make interpreting James easier, while also adding scholarship and depth to your studies of God's Word. This is especially helpful for those who are hard-pressed for time and yet want to preach or teach with accuracy and authority.
About the Author
Chris Vlachos is Ph.D. program administrator and adjunct assistant professor of New Testament at Wheaton College. He served twenty-two years as an instructor and professor of Greek and New Testament at Salt Lake Theological Seminary. Vlachos is also the author of The Law and the Knowledge of Good and Evil: The Edenic Background of the Catalytic Operation of the Law in Paul (Wipf & Stock) and (with Marvin R. Wilson) A Workbook for New Testament Greek: Grammar and Exegesis in First John (Hendrickson)
Check out a sample by clicking on the Sample button.
Endorsements
Judicious and clear…if you need a linguistic pick-me-up, this study by Chris Vlachos is exactly what the doctor ordered.
Vlahos has accomplished a remarkable feat: surveying and excerpting the best introductory, grammatical and exegetical positions of modern commentators on James, evaluating them judiciously, creating detailed exegetical and briefer homiletical outlines, and inserting comprehensive bibliographies for every section and topic raised by the letter en route.
This volume compactly collects information that students of the letter of James would otherwise have to search for in dozens of other volumes.
Vlahos sifts carefully and wisely through the grammar in the epistle. Students and scholars will both profit from his work.
If you want to know what scholars make of James, buy their commentaries. If you want to be equipped to learn what you should make of James based on the Greek text, buy this book.