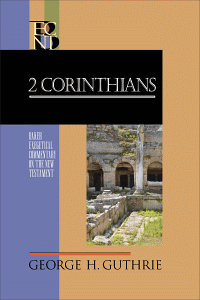 Baker Exegetical Commentary on the New Testament: 2 Corinthians
This title works with the following Wordsearch products
Desktop
Product Details
In this addition to the award-winning BECNT series, a respected New Testament scholar offers a substantive evangelical commentary on 2 Corinthians. George Guthrie leads readers through the intricacies of literary structure, word meanings, cultural backdrop, and theological proclamation, offering insights applicable to modern ministry contexts. As with all BECNT volumes, this commentary features the author's detailed interaction with the Greek text; extensive research; thoughtful, chapter-by-chapter exegesis; and an acclaimed, user-friendly design. It admirably achieves the dual aims of the series--academic sophistication with pastoral sensitivity and accessibility—making it a useful tool for pastors, church leaders, students, and teachers.
About the Series
The Baker Exegetical Commentary on the New Testament (BECNT) series provides commentaries that blend scholarly depth with readability, exegetical detail with sensitivity to the whole, and attention to critical problems with theological awareness.
About the Author
George H. Guthrie (PhD, Southwestern Baptist Theological Seminary) is Benjamin W. Perry Professor of Bible at Union University in Jackson, Tennessee. He is the author of numerous books and articles, including commentaries on Hebrews and James, and was a translator or consultant on four Bible translation projects. Guthrie is currently spearheading a biblical literacy effort to help churches train their members more effectively in reading the Bible well.
Check out a sample by clicking on the yellow box underneath the book cover image.
Endorsements
George Guthrie brings his significant skills to the task of interpreting this complex Pauline letter and proves to be a competent and helpful guide. Guthrie strikes the right balance in choosing how much information to impart without overloading the reader. His judgments on the interpretive issues are always fair and insightful, and I especially appreciate the clarity of his writing. Pastors and teachers will find this a very useful volume in preparing messages on 2 Corinthians.
A major academic treatment and analysis of 2 Corinthians. . . . Guthrie mounts a strong defense of the letter's unity, and provides some of the best arguments for that position in a short and readable compass. . . . This is an excellent commentary with much to commend it. Obviously such a complex letter with so many exegetical intricacies means that there is room to present certain details of interpretation. However, that adds to the richness of this treatment, and means that the commentary has much to offer to the debates concerning the meaning of the component parts and the wider message of this letter.
This is an extensive and insightful commentary on Paul's most personal letter. . . . Guthrie's rich commentary draws on the Greek text of the letter but explains it in such a way as to make it accessible to those not equipped with Greek. The commentary is explicitly theological and pastoral: each segment closes with an explicit reflection on the potential meaning of the passage for Christian life today.
The BECNT series has been a great gift to pastors, combining exegetical detail with a sensitivity to the needs of the pastor in a useful format. In reading this commentary, one can almost imagine Guthrie conversing with a pastor over a cup of coffee about the meaning of the text and what it means for his church.
The commentary provides an excellent mix of technical nuance and big-picture clarity. . . . Guthrie provides thorough and often highly sophisticated insights into the text. Without losing the reader, the author provides careful explanation of each individual unit within the book and provides judgments that are both accessible and astute. There are numerous diagrams, charts, and tables throughout the commentary. . . . The crisp layout along with helpful footnoting and headings make this a highly usable resource. One of the outstanding features of this commentary is Guthrie's sensitivity to the cultural backdrop and imagery of 2 Corinthians. . . . Guthrie has provided a benchmark commentary on 2 Corinthians. His work demonstrates excellent scholarship that is marked by humility as well as pastoral warmth and wisdom. Throughout this commentary Guthrie's interpretive decisions are both judicious and persuasive. . . . 2 Corinthians is fresh, engaging, and thoroughly accessible to pastor and scholar alike and should be an automatic inclusion into the library of anyone hoping to mine the wealth of this wonderful epistle.