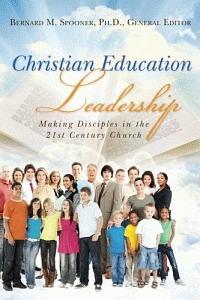 Christian Education Leadership
Making Disciples in the 21st Century Church
This title works with the following Wordsearch products
Desktop
Product Details
Christian Education Leadership is a collective work of twenty Christian leaders known for their practical as well as academic expertise. With an emphasis on making disciples as Jesus instructed, this book is an up-to-date comprehensive resource on Christian education.
This book shows church leaders how to provide for the spiritual formation of all age groups, including people with special needs. The aim of this book is to forge a strong connection between what happens on Sunday and how people live every day. The goal is discipleship, stressing how to develop a congregation that is on mission rather than merely a group of people who convene on Sundays.
At the core of the book is Jesus' command to his disciples, including church leaders today. "Go ... and make disciples of all the nations, baptizing them in the name of the Father and the Son and the Holy Spirit, teaching them to observe all that I commanded you" (Matthew 28:19-20. NASB). As we enter the third millennia of the Christian church, church leaders must learn and practice ways to truly obey Jesus' command. This comprehensive book provides guidance and inspiration for doing that.
About the Editor:
As editor, Bernard M. Spooner shepherded this book into being by identifying areas of needed emphasis and finding qualified people to write its twenty-three chapters. He has a lifetime of experience in Christian education, including fifteen years as a local church minister and more than two decades as aseminary professor and denominational leader helping pastors, Christian education leaders, and lay leaders. He also served as the first dean of what is now the Cook Graduate School of Leadership of Dallas Baptist University. For the Baptist World Alliance, he has served as chair of a commission that addresses theological education and leadership formation.