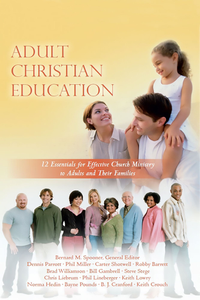 Adult Christian Education
12 Essentials for Effective Church Ministry to Adults and Their Families (Volume 4)
Product Details
This book is composed of 12 essentials for doing quality Christian education for the adult age groups. It begins with a biblical and theological foundation, gives information about the context for ministry to all ages of adults and their families, and helps persons understand what these age group are like and how spiritual formation takes place. Guidelines are also given for helping vocational age group minister and volunteer leaders in gaining support from the pastor, other staff, and the congregation. A key chapter relates to quality teaching.

The book also gives ideas for creatively conducting activities to attract adults and their families. Further, guidelines are also given for providing state of the art facilities and equipment needed for a good learning environment. Also addressed are the all-important skills for securing, developing, motivating, and ministering to a group of caring leaders and teachers. In addition, information is provided for developing a viable system for communicating to adults, volunteer workers, and the congregation. Finally, a chapter is provided on using wholesome motivation and servant leadership as a means of guiding and inspiring teachers and leaders.

This book is part of a series that provides the essentials for effective church ministry to all age groups.

About the Author:
Bernard M. Spooner, Ph.D., general editor, has a lifetime of experience in helping churches, including fifteen years as a local church minister and more than three decades as a seminary and university professor and denominational leader. He served as the first dean of what is now the Graduate School of Ministry of Dallas Baptist University, Dallas, Texas.