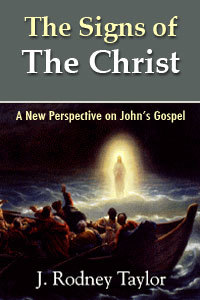 The Signs of The Christ
A New Perspective on John's Gospel
Product Details
The Signs of the Christ is a commentary and teaching tool focused on the Gospel of John. The author, Dr. J. Rodney Taylor, invites us to join a conversation regarding the Christological signs in John's Gospel and how they reveal the person and identity of Christ.
Over 20 Years of Scholarship
Taylor saw the need for a new commentary on John after studying New Testament Greek in seminary. He wanted to bring to light the beautiful signs and symbols within John's text that prove and confirm the divinity of Jesus. Taylor spent over 2 decades writing, refining, and preaching his work.
Spiritual Truths Brought to Life
You'll appreciate Taylor's attention to detail. You'll love how he points out the significance of words, the way John has placed them in his gospel, and, best of all, what this discovery tells us about Jesus.
For example, Taylor goes into great detail regarding the seven "I AM" sayings of Christ (egō eimi) found in the gospel of John. In his commentary on John 19:20, Taylor points to the deeper meaning of how the inscriptions on the cross were written in the 3 languages of Latin, Greek, and Hebrew (Aramaic). He gives us the significance of each and concludes with:
All could read and understand the charges. So on the cross of Jesus "meet the three chief civilizations of the world." Christ's mission of universal salvation is complete.
An Ideal Resource for Preaching and Teaching
More than just a commentary on John, Taylor takes this work to another level, making it extremely helpful for preaching and teaching. He includes a Student Guide packed with discussion questions on each lesson for use in group study. Furthermore, he includes a Teacher's Guide with additional instructions and short embedded videos for each lesson. In these videos, Taylor introduces each lesson and emphasizes key concepts regarding the signs of Christ. They can be viewed in Wordsearch and also can be projected onto a screen to be viewed by a small group or a congregation. It's valuable bonus material that adds visual presentation to each lesson.
Eventually, we all end up studying, preaching, or teaching from the unique gospel of John. When that time comes, you will be happy and blessed to have The Signs of The Christ in your library.
Check out a sample by clicking on the Sample button.
Products Included In This Bundle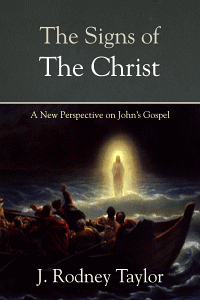 The Signs of The Christ
A New Perspective on John's Gospel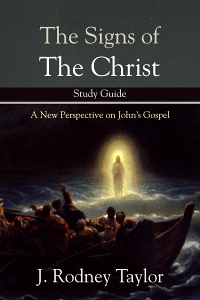 The Signs of The Christ: Study Guide
A New Perspective on John's Gospel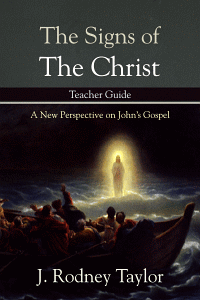 The Signs of The Christ: Teacher Guide
A New Perspective on John's Gospel