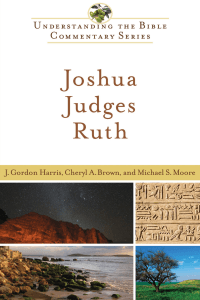 Understanding the Bible Commentary Series: Joshua, Judges, Ruth
This title works with the following Wordsearch products
Desktop
Product Details
Each volume in the Understanding the Bible Commentary Series breaks down the barriers between the ancient and modern worlds so that the power and meaning of the biblical texts become transparent to contemporary readers. They present a careful section-by-section exposition of the biblical books with key terms and phrases highlighted and all Hebrew transliterated. Notes at the close of each chapter provide additional textual and technical comments for those who want to dig deeper. A bibliography as well as Scripture and subject indexes are also included. Pastors, students, and Bible teachers will find in this series a commitment to accessibility without sacrificing serious scholarship.
These three books tell the history of Israel's early life in Canaan, before the monarchy. Their narratives mix exhilarating stories of God's deliverance and somber examples of the people's disobedience. They also include elements that are strange to modern readers. The commentators explore history and culture of the era to explain the difficult issues raised and relate the lessons to contemporary Christian life.

About the Author:
J. Gordon Harris is professor of Old Testament and director of Doctoral Studies at North American Baptist Seminary. He is also a chaplain in the Army Reserves and National Guard.

Cheryl A. Brown is an ordained American Baptist minister and is currently involved in theological education in Eastern Europe and the Middle East with the European Baptist Federation.
Michael S. Moore
is assistant professor of Old Testament at Fuller Theological Seminary in Arizona and is a preaching minister at the Tatum Boulevard Church of Christ in Phoenix.