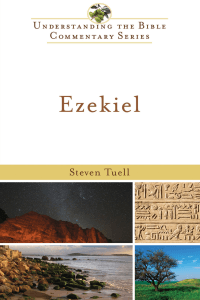 Understanding the Bible Commentary Series: Ezekiel
This title works with the following Wordsearch products
Desktop
Product Details
Each volume in the Understanding the Bible Commentary Series breaks down the barriers between the ancient and modern worlds so that the power and meaning of the biblical texts become transparent to contemporary readers. They present a careful section-by-section exposition of the biblical books with key terms and phrases highlighted and all Hebrew transliterated. Notes at the close of each chapter provide additional textual and technical comments for those who want to dig deeper. A bibliography as well as Scripture and subject indexes are also included. Pastors, students, and Bible teachers will find in this series a commitment to accessibility without sacrificing serious scholarship.
The modern reader encounters unfamiliar territory in Ezekiel, with its otherworldly visions and peculiar actions of its author. Ezekiel presents a message of doom and judgment followed by an equally powerful message of hope and restoration. Through helpful literary analysis and theological reflection, Tuell assists the reader in seeing the richness and ongoing relevance of this book for today.

About the Author:
Steven Tuell is the James A. Kelso Associate Professor of Old Testament at Pittsburgh Theological Seminary. He has authored a study of Ezekiel 40-48 in the Harvard Semitic Monographs series as well as a commentary on 1 and 2 Chronicles in the Interpretation series, and with John Strong has co-edited Constituting the Community: Studies on the Polity of Ancient Israel in Honor of S. Dean McBride, Jr.