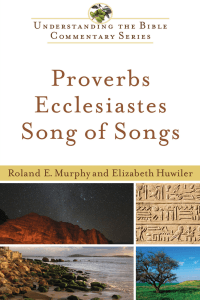 Understanding the Bible Commentary Series: Proverbs, Ecclesiastes, Song of Songs
This title works with the following Wordsearch products
Desktop
Product Details
Each volume in the Understanding the Bible Commentary Series breaks down the barriers between the ancient and modern worlds so that the power and meaning of the biblical texts become transparent to contemporary readers. They present a careful section-by-section exposition of the biblical books with key terms and phrases highlighted and all Hebrew transliterated. Notes at the close of each chapter provide additional textual and technical comments for those who want to dig deeper. A bibliography as well as Scripture and subject indexes are also included. Pastors, students, and Bible teachers will find in this series a commitment to accessibility without sacrificing serious scholarship.
The authors help the reader understand Hebrew thought expressed in wisdom literature and poetry. Murphy brings greater clarity to Proverbs via literary insight and intrabook connections. Huwiler sets Ecclesiastes in the larger biblical context and is a reliable guide through this consideration of existence and meaning. He explores the rich imagery of Song of Songs, a celebration of the goodness of human sexuality and love.

About the Authors:
Roland E. Murphy, O. Carm. (deceased 2002) was George Washington Ivey Emeritus Professor of Biblical Studies at Duke University and adjunct professor at the Washington Theological Union. He was coeditor of the New Jerome Biblical Commentary and wrote numerous articles, books, and commentaries.

Elizabeth Huwiler contributed the commentary on Ecclesiastes and Song of Songs to Proverbs, Ecclesiastes, Song of Songs, Volume 12 of the New International Biblical Commentary Old Testament series. She is associate professor of Old Testament and Hebrew at The Lutheran Theological Seminary at Philadelphia and an ordained minister of the Evangelical Lutheran Church in America.