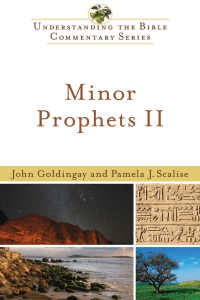 Understanding the Bible Commentary Series: Minor Prophets, Volume 2
This title works with the following Wordsearch products
Desktop
Product Details
Each volume in the Understanding the Bible Commentary Series breaks down the barriers between the ancient and modern worlds so that the power and meaning of the biblical texts become transparent to contemporary readers. They present a careful section-by-section exposition of the biblical books with key terms and phrases highlighted and all Hebrew transliterated. Notes at the close of each chapter provide additional textual and technical comments for those who want to dig deeper. A bibliography as well as Scripture and subject indexes are also included. Pastors, students, and Bible teachers will find in this series a commitment to accessibility without sacrificing serious scholarship.
The Minor Prophets are those dozen Old Testament books that, in the time of Jesus, were usually written on one scroll since they were all fairly brief. The late Elizabeth Achtemeier prepared the New International Biblical Commentary on the first six: Hosea, Joel, Amos, Obadiah, Jonah, and Micah. This second volume deals with the final six books. John Goldingay writes on Nahum, Habakkuk, Zephaniah, and Haggai; Pamela Scalise takes on the longest, Zechariah, and the last, Malachi.
About the Authors:
John Goldingay (PhD, University of Nottingham) is David Allan Hubbard Professor of Old Testament at Fuller Theological Seminary in Pasadena, California. He is ordained in the Episcopal Church and is the author of numerous books, including Old Testament Theology, volumes 1-3, as well as commentaries on Daniel, Isaiah, the Psalms, and (with Pamela Scalise) the Minor Prophets.

Pamela Scalise (PhD, Yale University) is associate professor of Old Testament at Fuller Theological Seminary, Seattle Campus. She is the author, with Gerald Keown and Thomas Smothers, of Jeremiah 26-52.