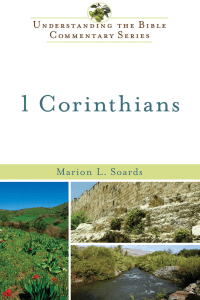 Understanding the Bible Commentary Series: 1 Corinthians
This title works with the following Wordsearch products
Desktop
Product Details
Each volume in the Understanding the Bible Commentary Series breaks down the barriers between the ancient and modern worlds so that the power and meaning of the biblical texts become transparent to contemporary readers. They present a careful section-by-section exposition of the biblical books with key terms and phrases highlighted and all Hebrew transliterated. Notes at the close of each chapter provide additional textual and technical comments for those who want to dig deeper. A bibliography as well as Scripture and subject indexes are also included. Pastors, students, and Bible teachers will find in this series a commitment to accessibility without sacrificing serious scholarship.
1 Corinthians is a clear, up-to-date, and thoroughly understandable treatment of Paul's letter to the church at Corinth, focusing attention on what the text actually means rather than scholarship about the text. It addresses many relevant issues, like sexual immorality, religious diversity, and the false teaching among leaders in Corinth. It also sheds light on how that culture affected the early church, revealing how many of those persistent problems are still faced by Christians in the world today.

About the Author:
Marion L. Soards is professor of New Testament studies at Louisville Presbyterian Theological Seminary. He is active in a number of scholarly societies and associations, has published dozens of articles and reviews in leading theological dictionaries and professional journals worldwide, and is the author of more than twenty books.