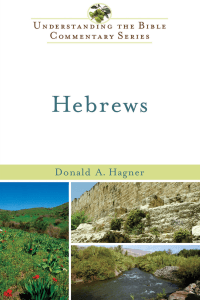 Understanding the Bible Commentary Series: Hebrews
This title works with the following Wordsearch products
Desktop
Product Details
Each volume in the Understanding the Bible Commentary Series breaks down the barriers between the ancient and modern worlds so that the power and meaning of the biblical texts become transparent to contemporary readers. They present a careful section-by-section exposition of the biblical books with key terms and phrases highlighted and all Hebrew transliterated. Notes at the close of each chapter provide additional textual and technical comments for those who want to dig deeper. A bibliography as well as Scripture and subject indexes are also included. Pastors, students, and Bible teachers will find in this series a commitment to accessibility without sacrificing serious scholarship.
This commentary reveals the true purpose of the book of Hebrews: to exhort and encourage Jewish Christians to remain faithful to Jesus and not to turn back to Judaism. These words of comfort, intended to help early believers to hold fast to the Christian hope without wavering in the face of persecution, ridicule, and insults, contain lessons that can guide our own faith today.

About the Author:
Donald A. Hagner (PhD, University of Manchester) is George Eldon Ladd Professor Emeritus of New Testament and senior professor of New Testament at Fuller Theological Seminary in Pasadena, California. He is the author ofEncountering the Book of Hebrews, The Jewish Reclamation of Jesus, New Testament Exegesis and Research: A Guide for Seminarians, and commentaries on Matthew and Hebrews. He is also coeditor of the New International Greek Testament Commentary and an ordained minister in the Presbyterian Church (USA).