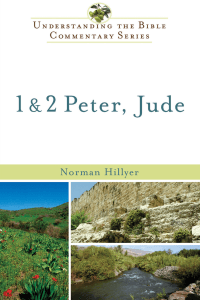 Understanding the Bible Commentary Series: 1 and 2 Peter, Jude
This title works with the following Wordsearch products
Desktop
Product Details
Each volume in the Understanding the Bible Commentary Series breaks down the barriers between the ancient and modern worlds so that the power and meaning of the biblical texts become transparent to contemporary readers. They present a careful section-by-section exposition of the biblical books with key terms and phrases highlighted and all Hebrew transliterated. Notes at the close of each chapter provide additional textual and technical comments for those who want to dig deeper. A bibliography as well as Scripture and subject indexes are also included. Pastors, students, and Bible teachers will find in this series a commitment to accessibility without sacrificing serious scholarship.
In 1 and 2 Peter, Jude, you will find a concise and incisive exegesis of the Petrine epistles and Jude, even of difficult verses. Written from an evangelical perspective, this commentary brings into focus a wealth of background information from the Old Testament, Jewish intertestamental works, and other literary sources to illuminate the letters of Peter and Jude.

About the Author:
Norman Hillyer is a minister who served churches in London, Surrey, Hertfordshire, and Devon. He has also worked as the librarian at Tyndale House, Cambridge, and contributed to the New International Dictionary of New Testament Theology.