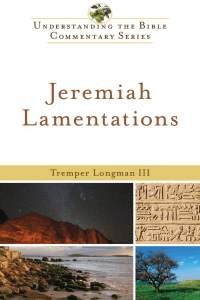 Understanding the Bible Commentary Series: Jeremiah, Lamentations
This title works with the following Wordsearch products
Desktop
Product Details
Each volume in the Understanding the Bible Commentary Series breaks down the barriers between the ancient and modern worlds so that the power and meaning of the biblical texts become transparent to contemporary readers. They present a careful section-by-section exposition of the biblical books with key terms and phrases highlighted and all Hebrew transliterated. Notes at the close of each chapter provide additional textual and technical comments for those who want to dig deeper. A bibliography as well as Scripture and subject indexes are also included. Pastors, students, and Bible teachers will find in this series a commitment to accessibility without sacrificing serious scholarship.
Jeremiah is a long and complex book, written in the closing years of Judah before the exile. Longman provides clear and accessible commentary drawing out covenant as a central theme: the people's violation, the consequences, and the promise of a new covenant to come. He also provides solid help for understanding and applying the ancient genre of lament found in Lamentations.

About the Author:

Tremper Longman III (PhD, Yale University) is the Robert H. Gundry Professor of Biblical Studies at Westmont College in Santa Barbara, California. Before coming to Westmont, he taught at Westminster Theological Seminary in Philadelphia for eighteen years. He has authored or coauthored numerous books, including An Introduction to the Old Testament,How to Read Proverbs, and commentaries on Job, Proverbs, Ecclesiastes, Song of Songs, Jeremiah and Lamentations, and Daniel.