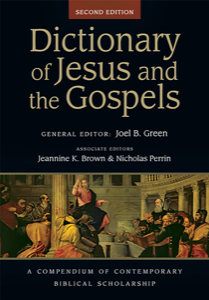 Dictionary of Jesus and the Gospels, Second Edition
Highlights
Part of the IVP Bible Dictionary Series
Product Details
The second edition of the Dictionary of Jesus and the Gospels is a thoroughly reconstructed and revised version of the critically acclaimed 1992 first edition. Since that groundbreaking volume was published, a wave of Jesus and Gospel scholarship has crested and broken on the shores of a new century.

Jesus has been proposed as sage, shaman, revolutionary, marginal Jew, Mediterranean peasant, or a prophet of Israel's restoration. The non-canonical Gospels have been touted, examined and reassessed. There are revised understandings of historiography, orality, form criticism, empire, and more. The second edition of the DJG amply weighs and assess the gains and shortcomings of this new scholarship.

Here is a self-contained reference library of information and perspective essential to exploring Jesus and the Gospels. This volume bridges the gap between scholars and those pastors, teachers, students, and interested readers who want thorough treatments of key topics in an accessible and summary format. Articles cover each Gospel, major themes in the Gospels, key episodes in the life of Jesus, significant background topics, as well as issues and methods of interpretation.

Among other benefits, it allows multiple opportunities for each of the Gospels to be weighed and heard in its own voice. Bibliographies are full and up to date, putting readers in touch with the best work in the field. All of this allows the articles to serve as launching pads for further research.

When the first edition of the Dictionary of Jesus and the Gospels was published, it was immediately recognized as an innovative reference work. By taking a particular corpus of biblical books and exploring it with in-depth articles written by specialists in the field, it refashioned a staple reference genre. This dictionary model has now been applied to each segment of the biblical canon in successive volumes.

Those who have enjoyed and benefitted from the wealth in the first edition will find the second edition an equally indispensable companion to study and research. Over ninety percent of the articles have been completely rewritten, and the rest thoroughly revised and updated. Here is the doorway into a reliable and comprehensive summary and appraisal of the last twenty years of Jesus scholarship. A new generation of scholars has opened the way to make this a Dictionary of Jesus and the Gospels for the twenty-first century.

About the Editor:
Joel B. Green (BS, MTh, PhD) is professor of New Testament interpretation at Fuller Theological Seminary. He was vice president of academic affairs, provost, and professor of New Testament interpretation at Asbury Theological Seminary in Wilmore, Kentucky. Prior to his appointment at Asbury in 1997, he was associate professor of New Testament at the American Baptist Seminary of the West/Graduate Theological Union in Berkeley, California.

About the Associate Editors:
Jeannine K. Brown is professor of New Testament at Bethel Seminary and teaches for Bethel's San Diego and St. Paul campuses. Her areas of interest include biblical hermeneutics, the Gospels, 1 Peter and issues of contextualization. Brown is the author of Scripture as Communication (Baker, 2007) and Disciples in Narrative Perspective (SBL, 2002). She contributed to the Baker Illustrated Bible Commentary and is currently writing two commentaries on Matthew.

Nicholas Perrin holds the Franklin S. Dyrness Chair of Biblical Studies at the Wheaton College Graduate School. Between 2000 and 2003, he was research assistant for N.T. Wright. He is the author and editor of numerous articles and books, including Thomas: The Other Gospel (Westminster John Knox, 2007), Lost in Transmission: What We Can Know about the Words of Jesus (Thomas Nelson, 2007) and most recently Jesus the Temple (Baker Academic and SPCK, 2010).
Endorsements
The IVP Dictionaries were an instant classic when they began to appear over two decades ago. They are inevitably the first volumes I turn to for current discussions on a variety of New Testament topics. Written by critical scholars who have an evangelical faith commitment, they provide quick yet comprehensive access to a myriad of topics of interest to students of the New Testament. The second edition of the Dictionary of Jesus and the Gospels continues the tradition of accessible scholarship: it includes superb articles, a good number of which are written by cutting-edge scholars on their respective topics. The list of contributors is a veritable who's who of evangelical Gospels scholarship. I enthusiastically welcome this revised edition and will keep it within easy reach for trustworthy entrées into the world of the Evangelists and their Lord.
Twenty years ago IVP began its groundbreaking series of dictionaries on large segments of the Bible with an outstanding volume on Jesus and the Gospels. To keep current with scholarship, the articles have now been completely reworked and updated. Very few articles are written by the people who wrote them originally, a number of new entries have been added and a few deleted, and the emphasis on the distinctives of the four Evangelists is even greater than before. The contributors represent an 'all-star' cast of contemporary, largely evangelical scholars, with noticeably greater representation by women and minorities. No serious student of Scripture will want to be without this volume.
The editors have matched the most important topics on the most important subject in the world with the people best qualified to write on them. Each article in this wonderful Dictionary is, if not an education, then an online course in itself.
Nourished especially by the evangelical tradition and yet well informed by wider debates and perspectives, this extensively updated edition of the Dictionary of Jesus and the Gospels is sure to continue the success of the first edition in providing for its readers clear, scholarly guidance on the themes, characters and major hermeneutical issues that one meets in reading the four Gospels. Its clear and accessible arrangement, supporting bibliographies and substantial treatments of its chosen topics render the Dictionary an invaluable resource for beginning students and established scholars alike.
Since its initial publication, the Dictionary of Jesus as the Gospels has been a key reference work that I've recommended often, and in this revised and updated edition it will surely continue to have my recommendation. It is a handy desk reference for scholars, and an informative introduction and overview of a multitude of topics for students and general readers.