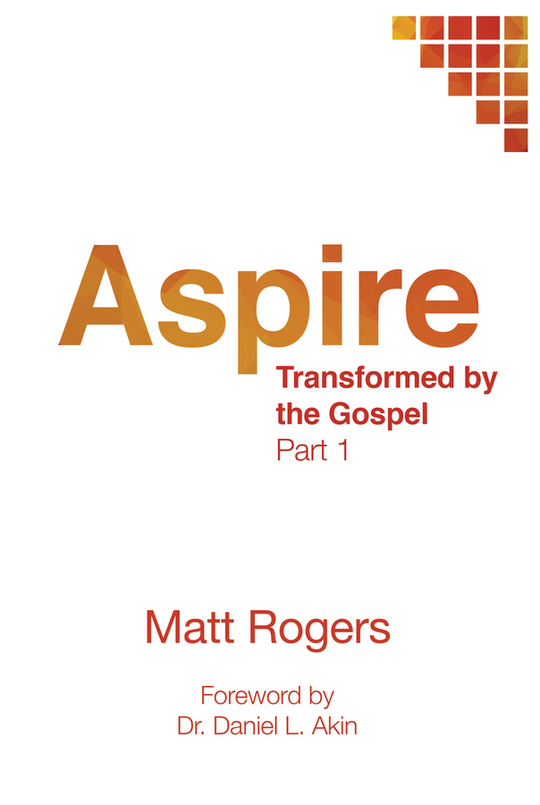 Aspire: Transformed by the Gospel: Part One
Product Details
Jesus' command is unmistakable - "Go and make disciples of all nations baptizing them in the name of the Father, Son, and Holy Spirit and teaching them to obey all things that I have commanded you" (Matt 28:19). There is no escaping the universal mandate that this charge has on all Christians.
"I know I should," they say, "but I don't know how."
Imagine that a person's heart is softened by the Holy Spirit to their responsibility to make disciples. They approach you to talk - "Ok, I'm ready to start making disciples," they say. "Where do I begin?"
Or suppose someone is a new or young Christian and is seeking to grow. What do you do? Invite them back each week to hear the sermon – certainly. Place them in a small group or Bible study class – yes, again. But you know that more is needed.
What they need is an intentional relationship with a mature Christ-follower over the course of an extended period of time where they can learn and apply God's Word.
Aspire: Developing and Deploying Disciples in the Church and for the Church, is meant to provide a tool to answer the "how" question of disciple-making. To do this it focuses on four vital areas of growth necessary for all Christ-followers:
Know – A disciple would grow in his knowledge of God as revealed in God's Word which culminates in the person and work of Jesus Christ;
Be – A disciple would grow in applying the life-giving message of the gospel to their heart as they increasingly reflect the character of God;
Do – A disciple would grow in obedience to the commands of Christ as they learn to respond to the wildly extravagant love of God;
Love – A disciple would grow in their love for their families, the church, and those far from God.
A holistic growth plan must do more than simply download information, rather it should aim at producing people who "Love God with all their heart, soul, mind, and strength and to love their neighbors as themselves (Matt 22:37; Lk 10:27).
The content is divided into three, twelve-week units in a workbook fashion that allows for the young Christian and a disciple-maker to journey through the content together.
"Gospel"
Section 1 aims to provide a robust, gospel framework derived from God's Word that moves through 12 chapters of God's work from creation to consummation.
"Ministry"
Section 2 focuses on the process of spiritual formation and growth that results from heartfelt worship and is demonstrated in practices such as prayer and Bible reading.
"Mission"
Section 3 pushes the disciple to live a life of mission by learning to declare and demonstrate the gospel to a watching world.
Tools alone will not produce disciples, but an intentional plan will make it easier for our churches to say "I know I should and now I can."

About the Author:
Matt Rogers is the pastor of The Church at Cherrydale in Greenville, South Carolina. He is a graduate of Furman University, Gordon-Conwell Theological Seminary, and Southeastern Baptist Theology Seminary. He is the author of Mergers: Combining Churches to Multiply Disciples and contributes regally to a number of evangelical organizations.
Endorsements
Matt Rogers isn't someone who just talks about discipleship. He is a disciple-maker - a pastor who has thought carefully about how believers can grow from gospel roots and become servants and leaders in the church. Aspire is the result of his fruitful thinking and activity.
In Aspire, Matt Rogers has provided pastors with an excellent resource for developing disciples in the local church. For years, the problem hasn't been a lack of desire by pastors; it has been a lack of a practical, reproducible, and theologically sound model to aid in the trash. Aspire does just that, and that's why we use it in our church!
Every follower of Christ should be a disciple-maker because Jesus gave the Great Commission to every believer. Matt's book gives a disciple-making roadmap to those who are ready to take up their Great Commission callings. Churches and individuals who put into practice what this book teaches will find their lives and their congregations dramatically transformed.