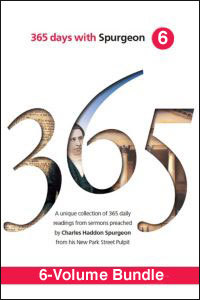 365 Days With Spurgeon
6 Volumes + Bonus Book Forgotten Prayer Meeting Addresses
Product Details
Charles H. Spurgeon possessed a deep and abiding reverence for the authority of God's written word to the end of his days. His recognition of how daily life both wounds and affects believers, together with the Biblical antidote rightly places him as a spiritual giant in the eyes of many Christians.
Spurgeon was only 19 when he first preached in 1853. When you read his abridged daily notes you can sense the extraordinary vitality which characterized his preaching.
365 Days with Spurgeon is a bundle of 2,190 encounters with Charles Spurgeon. Each volume contains a powerful Spurgeon devotional for each day of the year. More than just a devotional, it can be an endless supply of ideas and illustrations for your sermons and Bible lessons. For each day of the year, you'll find a Bible text and a concise message from one of Spurgeon's sermons on that text. Furthermore, each volume is indexed by topic and Scripture, making it easy for you to find relevant material.
Because Spurgeon treated every occasion as a unique opportunity for evangelism, another outstanding feature of these extracts is the amazing diversity of the subjects covered, and their relevance to the ears of the contemporary Christian. Spurgeon understood only too well the sinful nature and its wearying, pressurizing effect on the soul of the believing Christian living in the midst of the world.
Bonus Volume Included ($30 Value)
This 6-volume bundle includes an additional bonus volume titled C. H. Spurgeon's Forgotten Prayer Meeting Addresses. This is a collection of 37 rare sermons by Charles Spurgeon. One of the reasons Spurgeon is so loved by preachers is his straightforward way of presenting the truth from God's Word and drawing his listener's closer to Christ.
One of these sermons is titled Grace All-Sufficient. The Bible text is from 2 Corinthians 12:9 (My grace is sufficient for you). As Spurgeon's sermon draws to its climactic conclusion, he says this:
"So, friend, you have come here tonight, groaning that you have not grace enough for tomorrow. Ah, well! The text says, 'My grace is sufficient for thee,' and that means sufficient for today, not for tomorrow till tomorrow comes. You are fretting about a trouble coming on in a month's time; but the Lord does not promise to give you grace for October in the month of August. You say you have not got dying grace yet. Well, you are not dying yet; be content with living grace now, and you shall have the grace you need when the trial comes."
If you usual daily devotional is becoming rather familiar, this bundle will provide welcome change.
Check out a sample of this commentary by clicking on the yellow "Sample" button under the book cover on this page.
About the Editor:
Terrence Peter Crosby holds a PhD in Classics (Greek and Latin) from London University. He lives in south London with his wife Daphne and is a member of trinity Road Chapel. Dr. Crosby is the author of Opening Up 2 & 3 John and My Book of Hobbies, published by Day One, and Greek to the Rescue, published by Quinta Press.
Products Included In This Bundle
365 Days with Spurgeon: Volume 1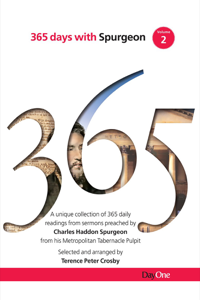 365 Days with Spurgeon: Volume 2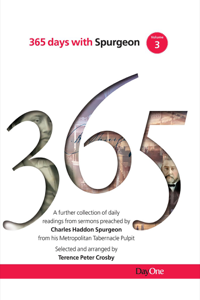 365 Days with Spurgeon: Volume 3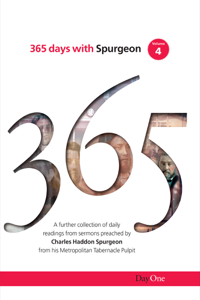 365 Days with Spurgeon: Volume 4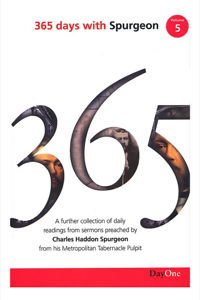 365 Days with Spurgeon: Volume 5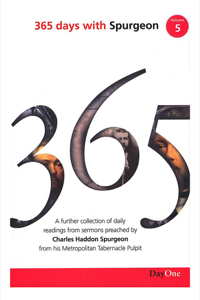 365 Days with Spurgeon: Volume 6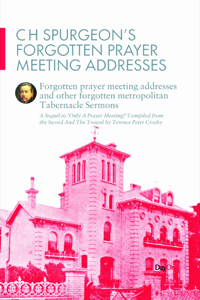 C. H. Spurgeon Forgotten Prayer Meeting Addresses