R. C. Sproul Knowledge Bundle
24 Volumes
Author: R. C. Sproul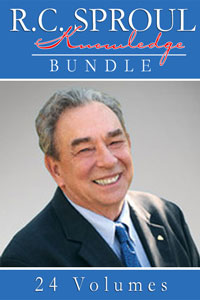 Product Details
Dr. R.C. Sproul is a pastor, educator, author, and highly esteemed theologian. The R.C. Sproul Knowledge Bundle includes 23 of his works and also a bonus volume by R.C. Sproul, Jr., his son.
Find Wisdom, Insight, Encouragement, and Understanding
Dr. John MacArthur describes Sproul as one who has "an amazing gift for explaining difficult truths in pithy, memorable, and easy-to-grasp ways." Sproul has spent a lifetime bringing clarity to deep and profound theological concepts. He measures everything with Scripture and communicates like a favorite teacher in words that everyone can understand. The R.C. Sproul Knowledge Bundle includes:
Everyone's a Theologian: An introduction to systematic theology
The Mystery of the Holy Spirit: A deeper study of the Third Person of the Trinity
The Prayer of the Lord: An inspiring phrase-by-phrase study of the Lord's Prayer
Five Things Every Christian Needs to Grow: Understanding the disciplines of Bible study, Prayer, Worship, Service, and Stewardship.
Chosen by God: Understanding the tenets of Calvinism in general, and the subject of election in particular.
Are We Together?: A protestant analysis of Roman Catholicism
Believing God: Twelve biblical promises that Christians struggle to accept
There's More!
There are 17 more volumes in this bundle from Sproul's Crucial Questions Series. Each volume in this series is titled with the crucial questions we ask about the Christian faith. Sproul brilliantly covers a wide range of theological topics with titles such as: What Is Faith? Does Prayer Change Things? Can I Know God's Will? What Is the Church? How Should I Live In This World? Plus a dozen others.
The knowledge you'll find in this bundle will assist you in ministering to others.
Check out a sample of this bundle by clicking on the yellow "Sample" button under the book cover on this page.
About the Author
R. C. Sproul (Drs, Free University of Amsterdam) serves as senior minister of preaching and teaching at Saint Andrew's Chapel in Sanford, Florida, and is the founder and president of Ligonier Ministries. He has taught at numerous colleges and seminaries, has written over seventy books, and is featured daily on Renewing Your Mind, an international radio broadcast.
Included Products
Crucial Questions: What Does It Mean to Be Born Again?
Crucial Questions: Can I Be Sure I'm Saved?
Crucial Questions: Can I Know God's Will?
Crucial Questions: Can I Trust the Bible?
Crucial Questions: How Should I Live in This World?
Crucial Questions: Does Prayer Change Things?
Crucial Questions: Who Is Jesus?
The Prayer of the Lord
Believing God : Twelve Biblical Promises Christians Struggle to Accept
Five Things Every Christian Needs to Grow
Everyone's a Theologian : An Introduction to Systematic Theology
Crucial Questions: What Is the Church?
Crucial Questions: What Is the Lord's Supper?
Crucial Questions: How Can I Develop a Christian Conscience?
Crucial Questions: Who Is the Holy Spirit?
Crucial Questions: Does God Control Everything?
Crucial Questions: Can I Have Joy in My Life?
Are We Together?
Crucial Questions: What Is Baptism?
Crucial Questions: What Can I Do with My Guilt?
Crucial Questions: What Is the Trinity?
Crucial Questions: What Is Faith?
Chosen By God : Knowing God's Perfect Plan for His Glory and His Children
The Mystery of the Holy Spirit