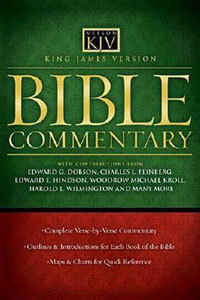 Product Details
The KJV Bible Commentary is a verse-by-verse commentary covering all 66 books of the Bible.

It's More Than a "KJV" Commentary with WORDsearch!
This Bible commentary has "KJV" in the title because the print version carries the King James text alongside the commentary. In WORDsearch, this commentary will sync with any Bible translation you choose from your digital library.

Reliable Scholarship — Proudly Evangelical
Many expert Bible scholars and teachers have contributed to this work. All contributors share a firm faith in these fundamental beliefs of evangelical Christianity: the inerrancy and infallibility of Scripture; the virgin birth and deity of Jesus Christ; and His vicarious atonement, bodily resurrection, and literal Second Coming.

Ideal for Preaching, Teaching & Personal Study
You will appreciate the concise approach that brings clarity to each verse. Each book opens with a brief introduction and outline. The authors pause along the way to explain key Greek and Hebrew words that are important to understand. Many additional commentaries have been consulted to make this resource. For example, Paul's tiny epistle to Philemon (25 verses) cites 24 other works!

Here's a small sample from Revelation 2:9. It's where the apostle John delivers the angel's message to the church in Smyrna, saying: "I know thy works, and tribulation, and poverty, but thou art rich." Here's what the KJV Bible Commentary offers on the first half of this verse:

"The Lord informs them that He knows their works, and tribulation (Gr thlipsis, a word that conveys the idea of pressing grapes until the juice comes forth). Christ has gone to the utmost depths of suffering and death. He sometimes permits trials in order to rekindle lost first love (Ps 119:67). Furthermore, He knows their poverty (cf. II Cor 8:9); they had, like Hebrew believers of a former time (Heb 10:34), suffered the loss of everything. Confiscation of goods attended and followed persecution. But they are reminded that though poor in worldly goods, they were rich in faith (cf. I Cor 3:21-23)."

Did you notice all the cross-references to other Scripture, in both Old and New Testaments? Great commentaries do this, allowing the Bible to comment on itself. You will enjoy having this work alongside your preferred Bible translation and other commentaries.

Check out a sample of this commentary by clicking on the yellow "Sample" button under the book cover on this page.

About the Authors:
Dr. Ed Hindson is the Assistant Chancellor and Dean of the Tim LaHaye School of Prophecy at Liberty University in Virginia. A Gold Medallion Award winning author, Hindson is also one of America's premier Bible teachers, having taught over 100,000 students in the past 30 years. He holds degrees from Westminster Theological Seminary and the University of South Africa.

Dr. Woodrow Kroll is president and senior Bible teacher for the international media ministry 'Back to the Bible'. The Back to the Bible radio program is in twenty-five languages and can be heard by more than 50 percent of the world's population every day. Dr. Kroll is the author of more than three dozen books. His clear, incisive teaching of the Word keeps him in demand as a speaker all over the world.