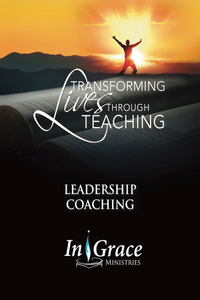 Transforming Lives Through Teaching
Leadership Coaching
Product Details
Transforming Lives Through Teaching: Leadership Coaching
is a year-long, transformational course of study for Bible teachers created by In Grace Ministries. Written by Ann White, Dr. Angie Bauman and Dr. Ken Coley. This program strives to equip Bible teachers to effectively teach, lead, and influence others in their walk with the Lord. The curriculum will help you gain the necessary skills to effectively interpret, teach, and apply God's Word, as well as training on delivery of Bible lessons.
In Grace Ministries is a non-profit organization that exists to strengthen, equip, and empower the world for Christ.
About the Authors:
For more than 20 years, Dr. Angie Bauman has been teaching others the Bible and equipping others to make disciples through the teaching ministry of the church. She holds a Master of Divinity, Master of Theology, and PhD in Christian Education from New Orleans Baptist Theological Seminary (NOBTS) in New Orleans, LA. She served as Associate Professor of Christian Education and Director of Student Services for the Marietta, GA campus of NOBTS for seven years before transitioning to King's Ridge Christian School (KRCS) in Alpharetta, GA, where she now serves as the Director of Christian Life and leads the KRCS community in spiritual development through chapel, mission trips, service projects and prayer.
Ann is Founder and President of In Grace Ministries (IGM), a non-profit organization dedicated to strengthening, equipping, and empowering the world for Christ. In order to fulfill this mission, Ann invests time both nationally and internationally speaking, teaching, writing, developing curriculum, and hosting Christian television talk shows.

Ken Coley has been teaching and leading in educational settings for forty years. Early in his career he taught high school English and served in youth ministry after attending Wake Forest University. While living in Maryland and doing his doctoral work there, Ken spent fifteen years leading the educational ministries of a Southern Baptist church and teaching adult Bible studies. For the last eighteen years, he has taught educational leadership at Southeastern Seminary and has helped develop educational ministries at a number of churches in the Wake Forest, NC, area. Ken and his wife Kathy have been married for thirty-nine years and have two children. In addition to his passion for teaching and writing, Ken enjoys kayaking and spending time with his German shepherds.