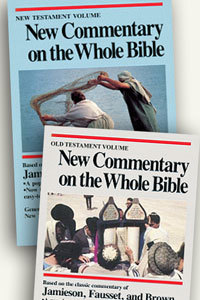 New Commentary on the Whole Bible
OT & NT
Product Details
One of the most trusted commentaries of the nineteenth century was a work known as Jamieson, Fausset, Brown (JFB). It's still in use today. Not too long ago, Tyndale Publishers did a complete update of JFB in this 2-volume work titled
New Commentary on the Whole Bible.
This easy-to-read commentary preserves the best of the original JFB and at the same time gives an up-to-date exposition of the Old and New Testaments. It combines the best of evangelical scholarship with fresh clarity. It also references newer Bible translations and current scholarship covering biblical themes, word studies, and archaeology.
For each book of the Bible, you are presented with a helpful introduction, then a verse-by-verse exposition and commentary. It illuminates the full meanings and implications of words, phrases, verses, and passages to supply you with an in-depth understanding of the entire Bible. You'll find this commentary filled with ideas and practical applications that lend themselves to preaching and teaching.
Products Included In This Bundle