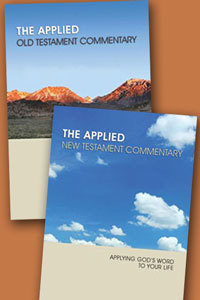 Applied Old and New Testament Commentary
Product Details
The Applied Old & New Testament Commentary is a bundle of 2 volumes packed with wisdom. Its fresh, insightful commentary is an ideal companion to have opened alongside your favorite Bible translation and any other commentary in your digital library. Applied is an appropriate title because so much of what you learn can be applied in sermons, in lessons, and especially in our lives.
Three important features of this work are:
General Articles found at the beginning of each volume. These are important themes and aspects of the Christian faith that recur throughout Scripture. You'll find articles on key Bible characters and topics such as: Salvation, Jesus Christ, Baptism, Healing, Christian Marriage, Revival, and many more. Whenever a comment on a verse relates to one of these subjects, at the end of the comment it will say, "(see General Article...)." These articles will amplify the commentary, and much space is saved.
The Word List is another saver of time and space. You'll find a list of 91 key words such as: angels, adoption, church, demons, faith, flesh, judgement, peace, etc. These are words you will often come across all throughout Scripture. An article is written on each word giving deeper insight, plus they include many hyperlinked examples of where this word is used in Scripture.
The Footnotes are unlike those you'll find in most other books. These footnotes contain important, practical information that relates to the lives of Christians today. You'll want to hover over each footnote and read it before moving on. It's like bonus commentary.
The resourceful editors of this work realized that many verses are repeated in other books of the Bible. When this happens, the full commentary is found only once, and each time the same text appears, they refer you to where the full commentary section can be found, just a click away. This is especially helpful when studying the gospels in the NT and repeated narratives found in Deuteronomy, Chronicles, Kings, and the prophets.
Philippians 1:11 tells us that we are "filled with the fruit of righteousness that comes through Jesus Christ to the glory of God." The Applied Commentary connects this verse to that of John 15:16 where Jesus commands us to go out and produce fruit. Here is a sample portion of the commentary:
"God has appointed us to bear fruit (John 15:16). What kind of fruit? There are two kinds of fruit we are expected to bear. The first kind of "fruit" is new disciples, those who come to faith in Christ through our witness. The second kind of fruit, the kind that Paul is mainly thinking about here, is the fruit of righteousness, which comes only through Christ (John 15:4-5).
Our own righteousness is worthless in God's sight; to Him, all our righteous acts are like filthy rags (Isaiah 64:6). Only the righteousness we have received through Jesus Christ will be to the glory and praise of God. The fruit of righteousness is the same as the fruit of the Holy Spirit (Galatians 5:22-23). This fruit is manifested in our good attitude and in our good works, in the blessings and loving help we give to others. Paul prays for the Colossians that they will bear fruit in every good work (Colossians 1:10). Let that be our prayer as well, both for ourselves and for each other!"
In the above example, the authors wove together 5 related lessons from both the Old and New Testaments, all which speak to this verse. Of course, in Wordsearch, all of these cross-references appear as hyperlinks, so by simply hovering over each link, you can instantly read the entire passages referenced.
This set will serve you as you serve others.
Check out a sample of this bundle by clicking on the yellow "Sample" button under the book cover on this page.
About the Authors:
Dr. Tom Hale has served as a missionary with Interserve and is also the author of several books.
Dr. Stephen Thorson is a missionary with a degree in theology from Wheaton College Graduate School, USA, and teaches at the Nepal Evangelical Bible College.
Endorsements
Dr. Tom Hale is a retired medical missionary who served in Nepal, and his book is essentially a missionary's commentary. Although he has done his biblical homework, and he thinks theologically, he does not write from the ivory tower of academia. His concern is rather for the grass roots of newly planted churches. He is familiar with the problems they face and the questions they ask. He wrestles with the need for cross-cultural application. He is committed to the unity of the church and urges us to give one another the liberty of interpretation in those secondary areas in which we disagree. And his straightforward, easy-to-read style includes both a simple vocabulary and short sentences. Inevitably a one-man commentary will not please everybody. But he has struggled to rid himself of bias, so that there is very much here for all Bible students to learn, whatever their cultural or denominational background. In fact, the Applied New Testament Commentary should help to promote mutual understanding, tolerance, and respect among Christian people.
As someone who is committed to communicating the Christian faith, I applaud the depth, clarity, simplicity, and relevance of the Applied New Testament Commentary. Its thoroughness yet accessibility makes it an invaluable resource for Christians—both old and new.
Products Included In This Bundle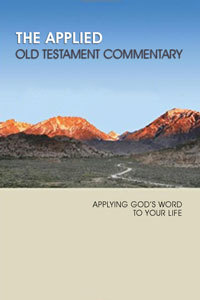 Applied Old Testament Commentary
Applying God's Word to Your Life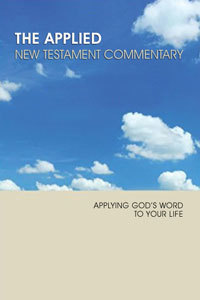 Applied New Testament Commentary