Collector's Edition: Lost Sermons of C. H. Spurgeon, Volume I
With Free Digital Edition
Author: Christian George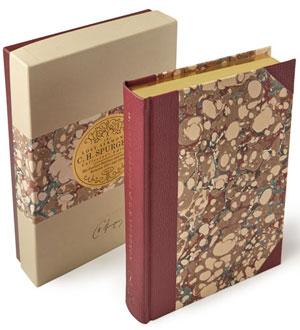 Product Highlights
Collector's Edition Hard Copy + Digital Download
Product Details
If you are a WORDsearch user, you recognize the advantages a digital library has over printed books. However, every once in a while, a special book is published that is so unique you will want that printed volume on our shelf in addition to a digital copy in WORDsearch.
WORDsearch's parent company, B&H Academic, has just released the first volume of The Lost Sermons of C.H. Spurgeon. These sermons have not been seen by anyone in over 160 years.
The Story of the Discovery of Spurgeon's Lost Sermons
In 2011, Dr. Christian George stumbled upon an obscure collection of handwritten notebooks at Spurgeon's College in London. These turned out to be the earliest original sermons of C.H. Spurgeon. Scholars have known about, and longed for, the discovery of these sermons for over 160 years.
These are the sermons that launched Spurgeon's preaching ministry, covering the years of 1851 through 1854. B&H Academic has now put into print the first volume of a 12-volume set. Even if you already own every Spurgeon sermon ever published, this series will add an additional 10% of new content to your collection. This first volume contains the first 77 sermons ever preached by Charles H. Spurgeon and much more.
A Handwritten Masterpiece Restored
Each page of Spurgeon's lost sermons was carefully photographed and faithfully reproduced both in the print editions and in the WORDsearch digital format. Each 2-page spread displays Spurgeon's handwritten sermon on the left and a typeset transcription on the right. The digital edition displays the typeset text beneath the manuscript.
Notes and Commentary
The transcription of each sermon is accompanied by the notes and commentary of Dr. Christian George, a leading Spurgeon scholar. Dr. George's notes are peppered with footnotes containing additional information for deeper understanding.
Old World Craftsmanship
No expense has been spared in the making of these magnificent volumes. Special artists and craftsmen were found to accurately represent the look and feel of books published in Spurgeon's day. This collector's edition is wrapped in custom marbled paper and leather, just like Spurgeon's original notebook. This edition also features 14-karat gold leaf gilding and contains dozens of additional photographs not found in the standard edition. And it comes nested in a matching gift box.
Lots of Extras
In addition to Spurgeon's sermons and commentary, you'll find many other helpful features such as:
The History of Spurgeon's Ministry
A Timeline of Spurgeon's Life
Biographical Introductions
A Distance Chart of Spurgeon's Travels
An Index of Sermons and Scripture Passages
Pie Charts on Sermon Frequency of Bible Books
A Graph of Word Counts for Each Sermon
A Word Chart of Spurgeon's Vocabulary
More Details and Helpful Videos on the Lost Sermons
Click here for more information on the Lost Sermons Project. We've posted some short videos that demonstrate just how gorgeous these special volumes are. Plus, you'll learn more about Christian George's amazing discovery and why these sermons are absolutely crucial to complete any collection of Spurgeon's works.
It's taken us 6 years from the discovery of these lost sermons to publication, and you'll understand why when you see this magnificent volume in print, or make use of the digital edition in your own ministry.
Included Products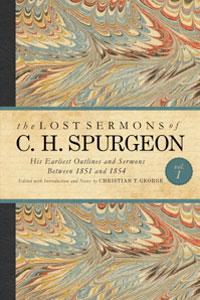 Lost Sermons of C. H. Spurgeon Volume I
: His Earliest Outlines and Sermons Between 1851 and 1854
Critical Reviews
The publication of this critical edition of the 'lost' sermons of C.H. Spurgeon—sermons preached between 1851 and 1854, and never before published—is a major triumph.
Christian George's edition of The Lost Sermons of C.H. Spurgeon is not only a remarkable gift to the admirers of Spurgeon, but it also provides an illuminating view into nineteenth-century evangelical thought. I recommend it highly.