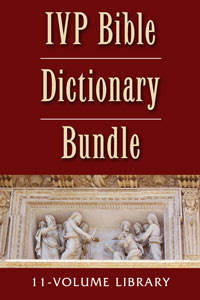 IVP Dictionary Bundle
11 Volumes
Product Details
Bible dictionaries are extremely helpful for sermon and lesson preparation. Each volume in the IVP Dictionary Bundle is painstakingly researched, written, and organized. The result is a detailed, focused study on nearly every person, place, thing, and doctrine found in the Bible.
The editors of this series say these volumes provide "a ready summary of the best thinking on the most important areas of their coverage, and they advance the discussion with fresh insights and ideas."
Here's a brief summary of what is included in this bundle:
Dictionary of the Old Testament Prophets
Interpreting the prophets is fiercely debated because matters of fundamental importance are perceived to be at stake. The authors of this volume wisely chose to let the volume portray a broad picture of contemporary scholarship on the Prophets. You'll find detailed studies on all the prophets and the cultures and historical settings of their times. Also included are articles on aspects of prophetic language and imagery, textual and historical topics, prophetic genres, hermeneutics, and important conceptual and theological themes.
Dictionary of the Old Testament Wisdom, Poetry & Writings
This volume covers every conceivable aspect of the books of wisdom and poetry, including the Psalms, Proverbs, Ecclesiastes, Lamentations, Esther, Ruth, and Song of Songs. Many important subjects are thoroughly addressed, such as the Afterlife, Angels, Creation, Kingship, Suffering, Thanksgiving, and much more. Much attention is given to literary styles in these books, with detailed articles on Alliteration, Acrostics, Allegory, Hebrew Grammar, Metaphors, Parallelism, Rhyme, Rhythm, and many others.
Dictionary of the Old Testament: Historical Books
This volume offers a scholarly reconstruction of the history of Israel in the various phases of its existence from Joshua to Nehemiah. Extensive articles are presented on all major characters, locations, and customs in the historical books. Plus you'll find new scholarship on nearly every relevant subject and topic that has a biblical role. You'll learn about Agriculture, Anointing, Disease, Exile, Kinship, Miracles, Travel, Weapons, and much more.
Dictionary of the Old Testament: Pentateuch
The first 5 books of the Bible are where it all started. The foundations of our faith were first laid here. Every article in this dictionary was meticulously researched. No article is shorter than one thousand words, and many articles are ten thousand words. You'll learn many new things in this excellent volume.
Dictionary of New Testament Background
This volume contains detailed studies on just about any New Testament character or topic you can think of. One helpful feature is the vast amount of cultural information. By looking at outside sources a great deal of light can be shed on what we find in the Bible. Biblical and Roman historians, like Josephus, Philo, and Tacitus, can add to a deeper understanding of the New Testament texts.
Dictionary of Jesus and the Gospels, Second Edition
This dictionary contains hundreds of articles on the ministry of Jesus and every person and event that is described in the Gospels. Moreover, it takes on the many questions that arise from the Gospels themselves.
Dictionary of Paul and His Letters
This volume provides extensive material on Paul and his epistles. You'll come away with an intimate understanding of Paul, his personality, his evangelistic zeal, and what effect his remarkable conversion had on his writings and missionary journeys.
Dictionary of the Later New Testament & Its Developments
This dictionary focuses on the remaining New Testament books - those that are not included in the Gospels or Paul's epistles. This volume will help you to better understand these important books and their themes.
Dictionary of Major Biblical Interpreters
Jesus often interpreted Moses and the prophets. Phillip interpreted Isaiah to the Ethiopian eunuch on the road to Emmaus, but first asked the question: "Do you understand what you are reading?" This volume does the same for you and me. It focuses on the work of many of the most significant biblical interpreters through the last two thousand years. It brings together scholarly essays that show the methods, practices, and interpretive stances adopted by a number of the church's most important biblical scholars.
Dictionary of Christianity In America
This unique dictionary provides easy access to the full range of topics related to the past and present of Christianity in America. As a dictionary of Christianity, this volume covers its topic in the broadest sense of the term. It seeks to cover the numerous religious bodies, movements, individuals, and institutions that have laid claim to the Christian tradition. It does not attempt to arbitrate in matters of religious conviction, but to report fairly, accurately, and objectively the beliefs and practices of the respective groups.
Dictionary of Biblical Imagery
This volume includes the best of the rest. You'll find detailed articles on Bible images, metaphors, character types, plot motifs, type scenes, rhetorical devices, literary genres, and the individual books of the Bible.
See a sample of each volume and read more about it by clicking on the book cover images below.
Products Included In This Bundle