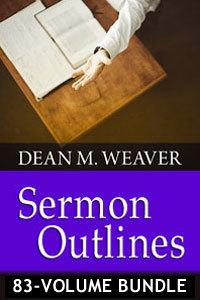 Dean M. Weaver Sermon Outlines 83-Volume Bundle
Includes 32 New Volumes
This title works with the following Wordsearch products
Desktop
Highlights
Not available digitally anywhere else
A Wordsearch Bestseller
This bundle includes the complete works of Dean M. Weaver available so far on Wordsearch
Product Details
Dean Weaver is a gifted preacher, pastor, and sermon writer who has spent over 46 years pastoring and preaching. Over the decades, Weaver has assembled a treasure trove of unpublished, alliterated sermon outlines.
He covers each book with alliterated outlines, and each outline is divided into many sub-points, making it practical and easy to grasp for building thousands of your own sermons and lessons. Weaver looks beyond the obvious, offering fresh and understandable outlines that hold tightly to the Scripture. Before writing, Weaver says he prays, "Lord, open my eyes and help me say only what the Word says." You will also enjoy the titles Weaver suggests for sermons. They are catchy and memorable.
Included in this set are four volumes on the gospel of Luke that took Weaver 23 years to complete. He covers every chapter and verse of Luke with brilliant insight, alliterated outlines, many sub-points, illustrations, and practical application. If you ever consider preaching or teaching through the book of Luke, this is the resource you'll want at your side.
Another highlight of this bundle is a work titled The Testimony of Typology in the Tabernacle. It covers every conceivable aspect of the Tabernacle, and references 50 different chapters of the Bible that describe or allude to the Tabernacle. Dr. Weaver refers to God as the "architect," and Moses as the "general contractor." At the end of each chapter, Weaver provides you with a list of questions and keyed answers to help you challenge your own understanding of the material. Weaver used 175 primary resources to research this volume. It will be a blessing to your ministry.
In the volumes on 1 Samuel, Nehemiah, and Proverbs, Weaver includes bonus material of content-rich sidebars. As you read Weaver's outlines, you'll see many words and phrases highlighted. These are hyperlinks to more detailed information. Just mouse-over any of these hyperlinks and a sidebar will pop up with more detailed study on this particular name, place, idea, or topic. Many of these sidebars contain enough material for fully-alliterated sermons.
Check out a sample by clicking on the Sample button.
Products Included In This Bundle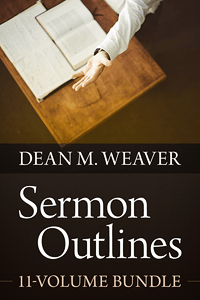 The Groundwork in Genesis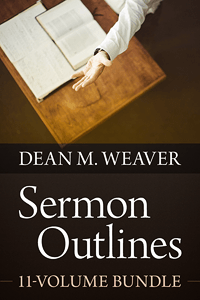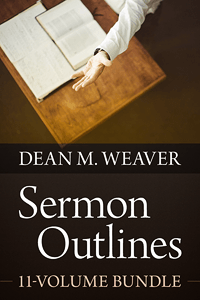 Reminders of Redemption in Ruth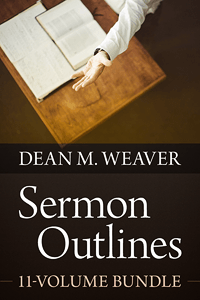 Familiar Sketches in First Samuel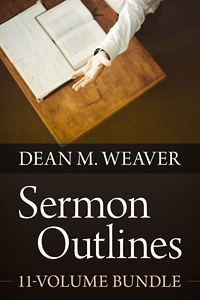 Spiritual Sights in Second Samuel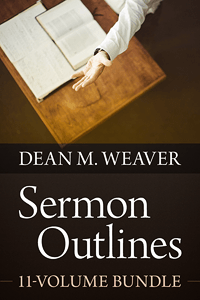 Finding Kindling in First Kings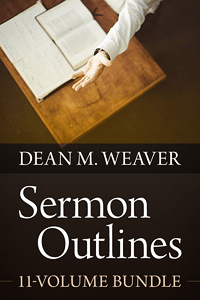 Skeleton Keys in Second Kings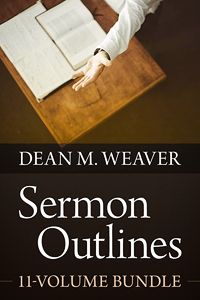 Pondering on the Proverbs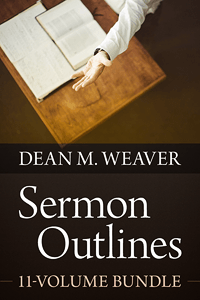 The Disclosures in Daniel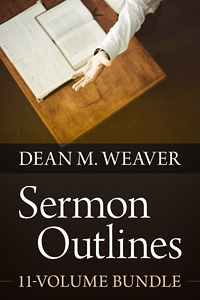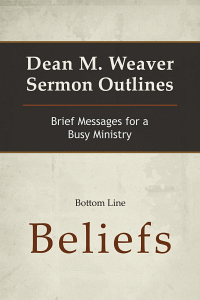 Bottom Line Beliefs
Brief Messages for a Busy Ministry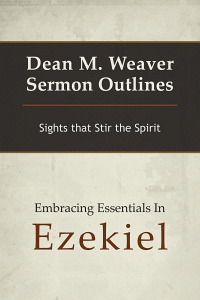 Embracing Essentials In Ezekiel
Sights that Stir the Spirit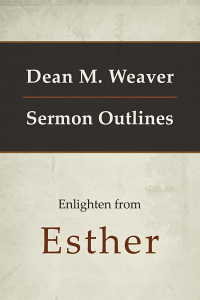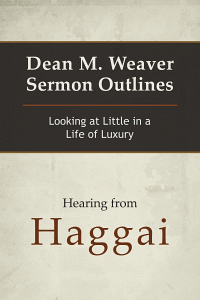 Hearing from Haggai
Looking at Little in a Life of Luxury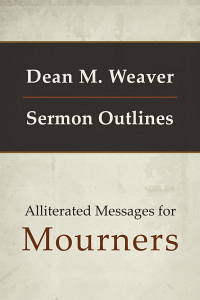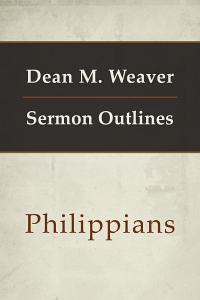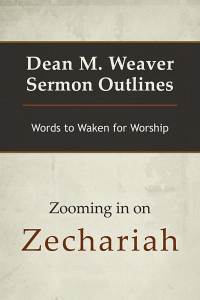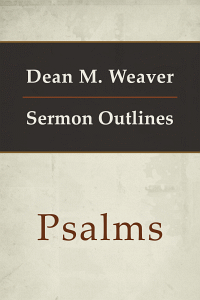 Singing and Sighing through the Psalms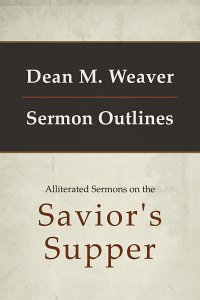 Sermons on the Savior's Supper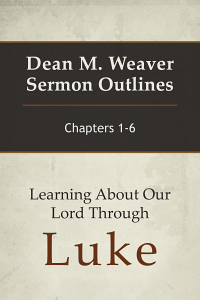 Learning About Our Lord Through Luke, Vol 1
Chapters 1-6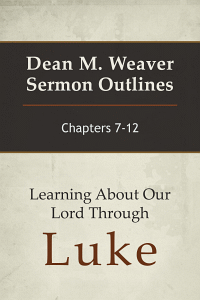 Learning About Our Lord Through Luke, Vol 2
Chapters 7-12
Learning About Our Lord Through Luke, Vol 3
Chapters 13-18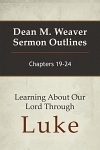 Learning About Our Lord Through Luke, Vol 4
Chapters 19-24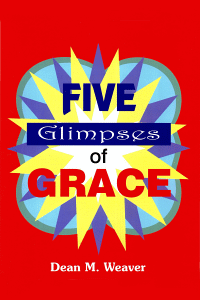 Five Glimpses of Grace
The Levitical Offerings
The Testimony of Typology In the Tabernacle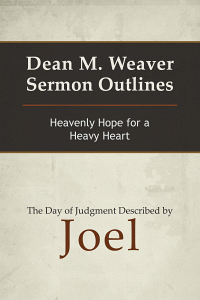 The Day of Judgment Described by Joel Outlines
Heavenly Hope for a Heavy Heart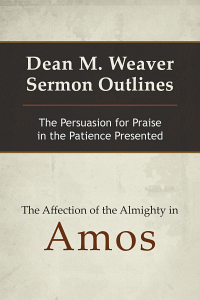 The Affection of the Almighty in Amos Outlines
The Persuasion for Praise in the Patience Presented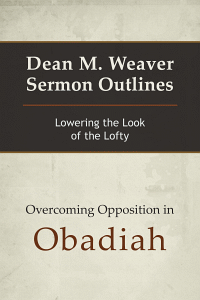 Overcoming Opposition in Obadiah Outlines
Lowering the Look of the Lofty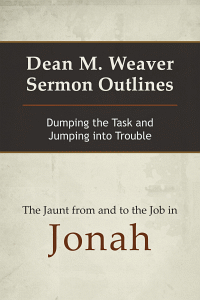 The Jaunt from and to the Job in Jonah Outlines
Dumping the Task and Jumping into Trouble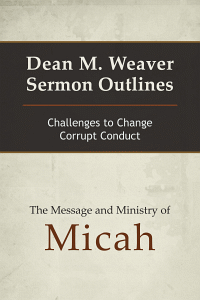 The Ministry and Message of Micah Outlines
Challenges to Change Corrupt Conduct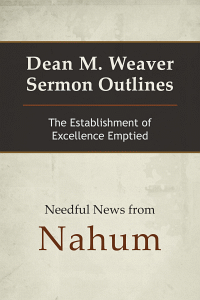 Needful News from Nahum Outlines
The Establishment of Excellence Emptied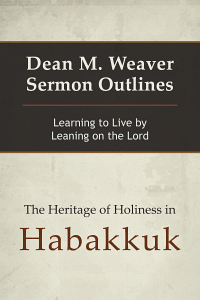 The Heritage of Holiness in Habakkuk Outlines
Learning to Live by Leaning on the Lord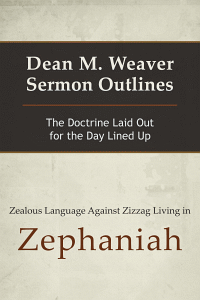 Zealous Language Against Zigzag Living in Zephaniah Outlines
The Doctrine Laid Out for the Day Lined Up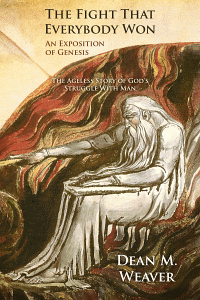 The Fight That Everybody Won: An Exposition of Genesis 32
The Ageless Story of God's Struggle With Man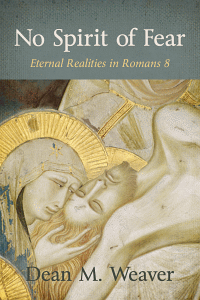 No Spirit of Fear
Eternal Realities in Romans 8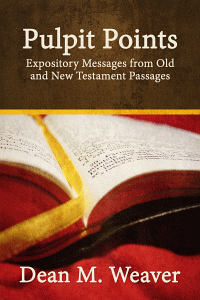 Pulpit! Points
Expository Messages from Old and New Testament Passages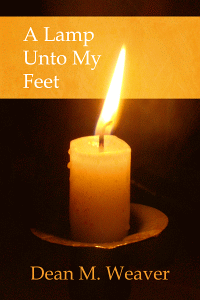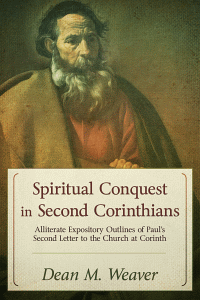 Spiritual Conquest in Second Corinthians
Alliterate Expository Outlines of Paul's Second Letter to the Church at Corinth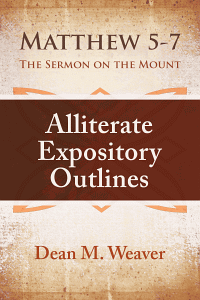 Alliterate, Expository Outlines in Matthew 5-7
The Sermon on the Mount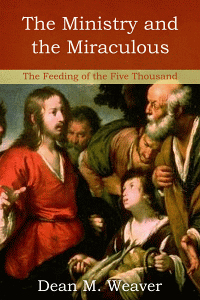 The Ministry and the Miraculous
The Feeding of the Five Thousand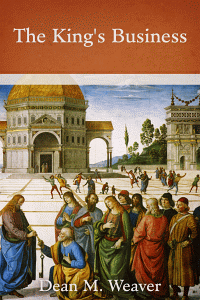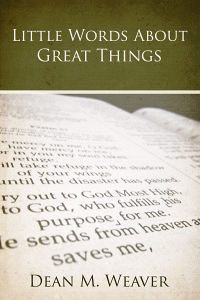 Little Words about Great Things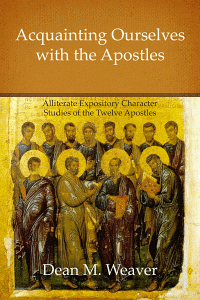 Acquainting Ourselves with the Apostles
Alliterate Expository Character Studies of the Twelve Apostles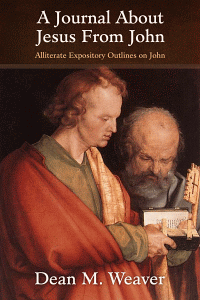 A Journal About Jesus From John
Alliterate Expository Outlines on John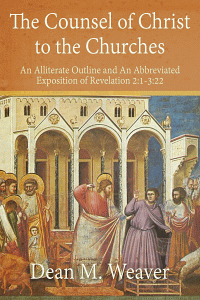 The Counsel of Christ to the Churches
An Alliterate Outline and An Abbreviated Exposition of Revelation 2:1-3:22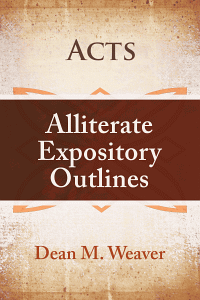 Alliterate Expository Outline of the Acts of the Apostles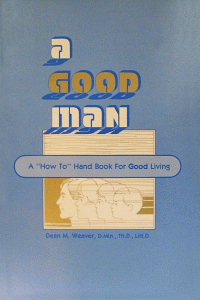 A Good Man
A "How To" Hand Book for Good Living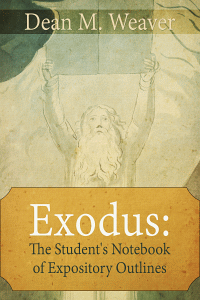 Exodus: The Student's Notebook of Expository Outlines
An Audience with the Almighty
Pointers in the Practice of Prayer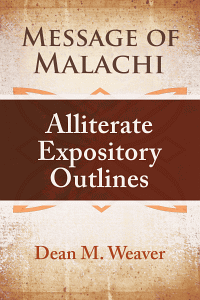 Alliterate Expository Outlines on the Message of Malachi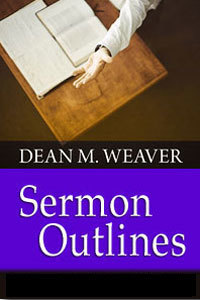 Looking at the List of Laws in Leviticus
Celebrating Christ In The Ceremonies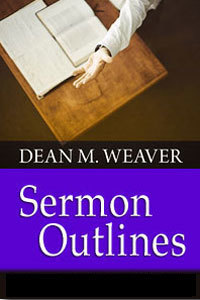 Nuggets for Notice in Numbers
Sanctified Steps For Suitability In Service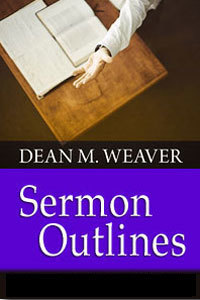 The Factual Complement of First Chronicles
History Highlighted For Hearing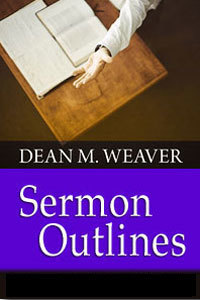 The Supplemental Continuation of Second Chronicles
Significant Signatures Seen On The Sheets Of Scripture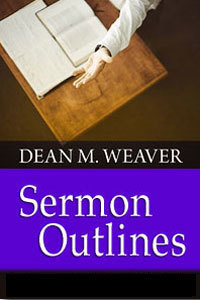 The Emphasis on the Edifice in Ezra
The Story Of The Struggles For The Structure Of The Sanctuary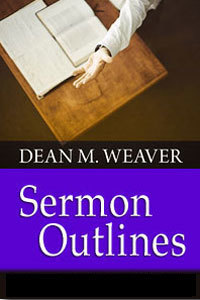 The Judges and Jury for Judgement in Job
The Jaws Of Criticism Jumping To Conclusions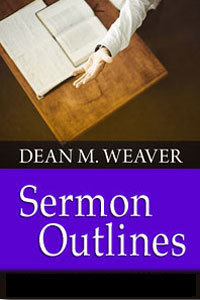 The Emphasis on Emptiness in Ecclesiastes
Searching For Satisfaction Without Success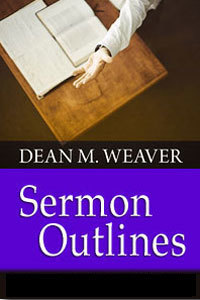 Sweet Talking Sentences in the Song Of Solomon
The Language Of Love By And For The Lord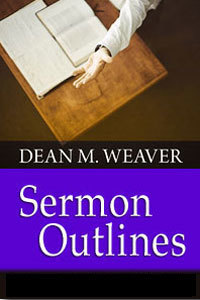 Jeopardy for the Job in Jeremiah
The Beckoning Healer For The Backsliding Heart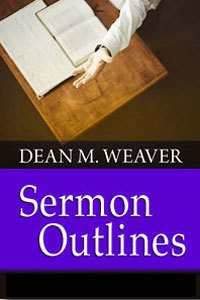 A Little Look at the Language of Lamentations
Mercies Without Merit New Every Morning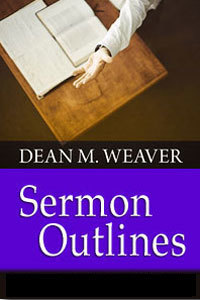 The Majesty of the Messiah in Matthew
The Role And Rule Of His Royalty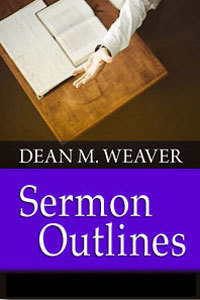 Meditating on the Message by Mark
Belief Beholding The Beginning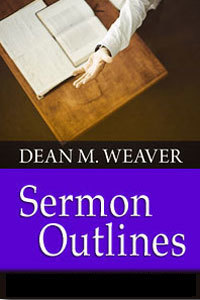 Rudiments for Righteousness in Romans
Fundamentals For The Family Of Faith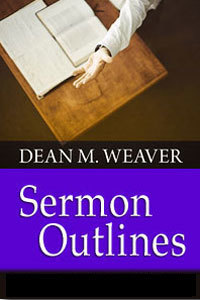 Full Comprehension in First Corinthians
Basics For Belief And Behavior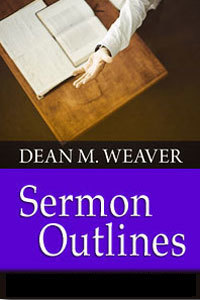 Getting a Grip on the Gospel in Galatians
Facts For A Firm Footing In The Faith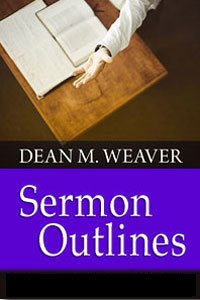 Edification for Establishment in Ephesians
The Curriculum For Comprehending The Church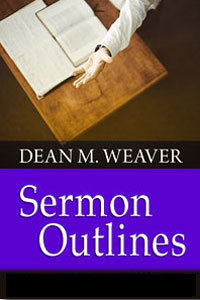 Completion to Christianity in Colossians
Words Written For A Worthy Walk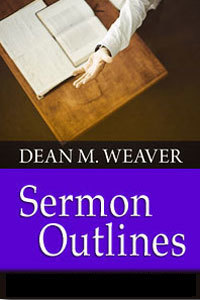 Fundamental Thought in First Thessalonians
Comfort For The Church In The Coming Of Christ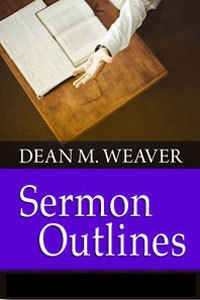 Simple Truth in Second Thessalonians
Help For The Head And Heart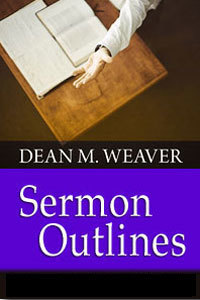 Faith Tested in First Timothy
Firm Footing For The Fight Of Faith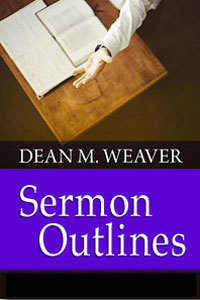 Scheduled Times in Second Timothy
The Duty In The Discernment Of Days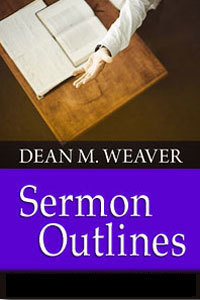 Timeless Teaching in Titus
Principles Presented For Profitable Performance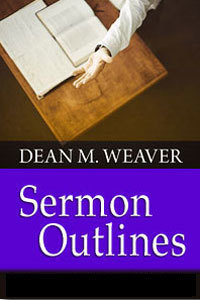 The Phrases of Philanthropy in Philemon
The Letter Sent For Love's Sake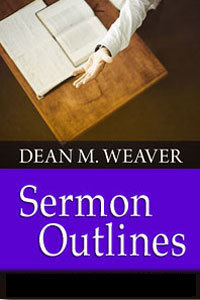 The Highest for Holding in Hebrews
The Backward Trip Blocked By Better Things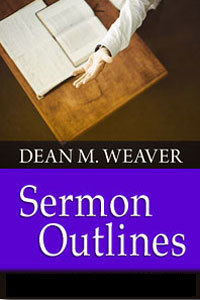 Jobs for Justification in James
For The Eyes of Earth Evidence Is In The Efforts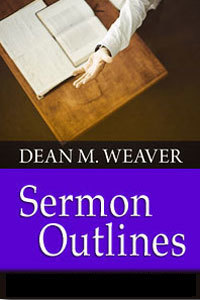 Facing Persecution in First Peter
Stabilizing The Walk In A Slippery World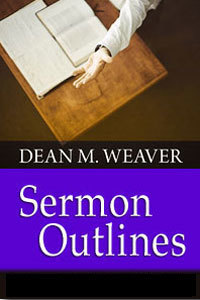 Sound Principles in Second Peter
Lessons To Learn About Loftiness Of Life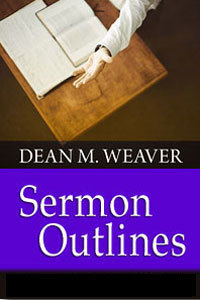 Found Jargon in First John
The Love Of The Lord For Liberation Of Life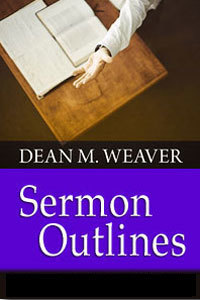 Spiritual Joy in Second John
Happiness In Holy Habits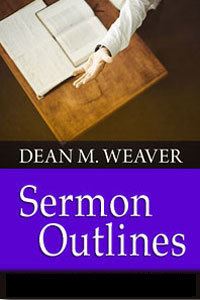 Terminating Jeers in Third John
Togetherness In Testimony To The Truth
The Job of Judgement in Jude
Foes Fervently Fought For The Finality Of The Faith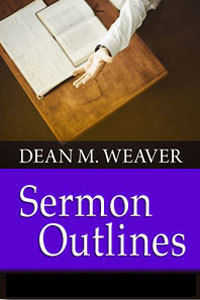 The Returning Redeemer in Revelation
The Uncovering For The Understanding