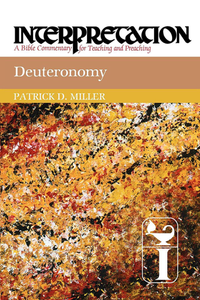 Interpretation Old Testament Commentary: Deuteronomy
A Bible Commentary for Teaching and Preaching
Product Details
In this theological exposition of Deuteronomy, Patrick Miller is sensitive to the character of the book as a part of Scripture that self-consciously addresses different generations. He discusses the nature and character of the law as revealed in Deuteronomy, as well as the nature of the moral life under God. The treatment of Deuteronomy in the New Testament, and customary introductory issues such as authorship and date, are dealt with in terms of their significance for interpreting and understanding Deuteronomy's character and intention.
Interpretation: A Bible Commentary for Teaching and Preaching is a distinctive resource for those who interpret the Bible in the church. Planned and written specifically for teaching and preaching needs, this critically acclaimed biblical commentary series is a major contribution to scholarship and ministry.

About the Author:
Patrick D. Miller is Charles T. Haley Professor Emeritus of Old Testament Theology at Princeton Theological Seminary in Princeton, New Jersey. He is the author of numerous books, including Theology Today: Reflections on the Bible and Contemporary Life and The Ten Commandments in the series, Interpretation: Resources for the Use of Scripture in the Church, for which he serves as series editor.