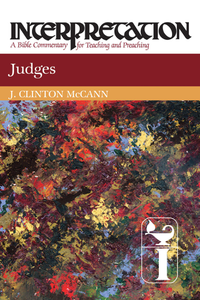 Interpretation Old Testament Commentary: Judges
A Bible Commentary for Teaching and Preaching
Product Details
This volume studies the biblical book of Judges, which focuses on the period in Israel's history when the nation was ruled by a series of judges. The book describes the progressive deterioration of the nation as a result of the violence and idolatry of the people. Yet the nation also encountered the astounding graciousness of the God who remained faithful to them.
Interpretation: A Bible Commentary for Teaching and Preaching is a distinctive resource for those who interpret the Bible in the church. Planned and written specifically for teaching and preaching needs, this critically acclaimed biblical commentary is a major contribution to scholarship and ministry.

About the Author:
J. Clinton McCann Jr. is Evangelical Professor of Biblical Interpretation at Eden Theological Seminary in St. Louis, Missouri. He is the author of Judges in the Interpretation commentary series.