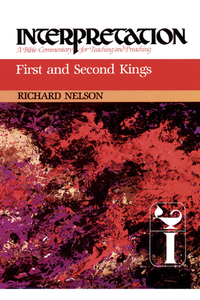 Interpretation Old Testament Commentary: First and Second Kings
A Bible Commentary for Teaching and Preaching
Product Details
Richard Nelson examines the books of Kings and treats the text as theological literature, emphasizing the literary impact of this important part of the Old Testament canon. Nelson recognizes King's as a useful though uncritical source of historical information, its purpose to transform the beliefs of its first readers, to get them to re-evaluate their identity before God.
Interpretation: A Bible Commentary for Teaching and Preaching is a distinctive resource for those who interpret the Bible in the church. Planned and written specifically for teaching and preaching needs, this critically acclaimed biblical commentary is a major contribution to scholarship and ministry.

About the Author:
Richard D. Nelson is Professor Emeritus of Biblical Hebrew and Old Testament Interpretation at Perkins School of Theology, Southern Methodist University. He is a pastor with the Evangelical Lutheran Church in America and the author of several books, including Joshua: A Commentary in the Old Testament Library series and First and Second Kings in the Interpretation series.