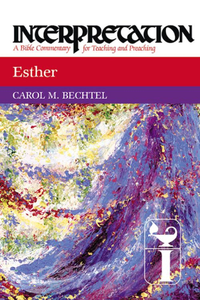 Interpretation Old Testament Commentary: Esther
A Bible Commentary for Teaching and Preaching
Product Details
The biblical queen Esther is one of Scripture's most fascinating persons, and the drama of the book bearing her name is clearly captured in this superb commentary. Carol Bechtel expertly explores the historical settings, literary structures, and theological themes that emerge in the book of Esther.
Interpretation: A Bible Commentary for Teaching and Preaching is a distinctive resource for those who interpret the Bible in the church. Planned and written specifically for teaching and preaching needs, this critically acclaimed biblical commentary is a major contribution to scholarship and ministry.

About the Author:
Carol M. Bechtel is Professor of Old Testament at Western Theological Seminary in Holland, Michigan. She is the author of Life After Grace, Glimpses of Glory, and Esther in the Interpretation commentary series, all published by WJK.