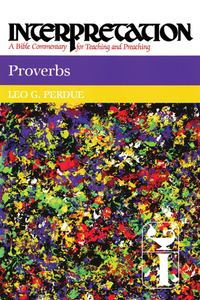 Interpretation Old Testament Commentary: Proverbs
A Bible Commentary for Teaching and Preaching
Product Details
The book of Proverbs is a collection of sayings, poems, and "life's little instructions." Wrestling with the values of things such as creation, livelihood, or moral character, Proverbs exhorts its readers to seek the higher ideals--knowledge, discipline, piety, and order--and offers guidance on how to live in harmony with God, others, and oneself.
Interpretation: A Bible Commentary for Teaching and Preaching is a distinctive resource for those who interpret the Bible in the church. Planned and written specifically for teaching and preaching needs, this critically acclaimed biblical commentary is a major contribution to scholarship and ministry.

About the Author:
Leo G. Perdue is Professor of Hebrew Bible at Brite Divinity School in Fort Worth, Texas. He is an international authority on wisdom literature and the author of numerous books, including Proverbs in the esteemed Interpretation commentary series.