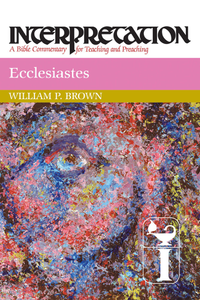 Interpretation Old Testament Commentary: Ecclesiastes
A Bible Commentary for Teaching and Preaching
Product Details
Ecclesiastes is a collection of sayings traditionally attributed to Solomon and deemed by some the strangest book in the canon. It comprises an unusual blend of autobiographical references, theological reflections, philosophical musings, and proverbial instructions, all probing the seeming pointlessness of human striving. Brown explores the text as it engages our own culture's era of questioning and search for self full-fulfillment.
Interpretation: A Bible Commentary for Teaching and Preaching is a distinctive resource for those who interpret the Bible in the church. Planned and written specifically for teaching and preaching needs, this critically acclaimed biblical commentary is a major contribution to scholarship and ministry.

About the Author:
William P. Brown is William Marcellus McPheeters Professor of Old Testament at Columbia Theological Seminary. He has published numerous works, including Seeing the Psalms: A Theology of Metaphor and Ecclesiastes in the Interpretation series. He also serves on the editorial board for the esteemed Old Testament Library series, published by Westminster John Knox Press.