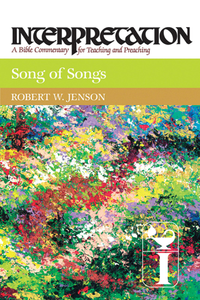 Interpretation Old Testament Commentary: Song of Songs
A Bible Commentary for Teaching and Preaching
Product Details
Here Robert Jenson offers a systematic theologian's careful reading of the Song of Songs. Jenson focuses on the overt sense of the book as an erotic love poem in order to discover how this evocative poetry solicits a theological reading. Jenson finds a story of human love for God in this complex poetic book and offers a commentary that elucidates and inspires.
Interpretation: A Bible Commentary for Teaching and Preaching is a distinctive resource for those who interpret the Bible in the church. Planned and written specifically for teaching and preaching needs, this critically acclaimed biblical commentary is a major contribution to scholarship and ministry.

About the Author:
Robert W. Jenson is Senior Scholar for Research at the Center for Theological Inquiry in Princeton, New Jersey, and Professor Emeritus of Religion at St. Olaf College in Northfield, Minnesota.