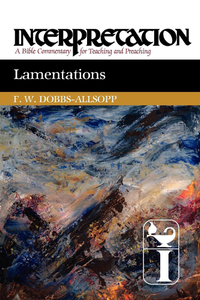 Interpretation Old Testament Commentary: Lamentations
A Bible Commentary for Teaching and Preaching
Product Details
In the face of suffering, agony, and the brutal realities of life; in the midst of divine silence and human pain, the Lamentations poems speak of faith and trust in God. This sophisticated yet accessible commentary makes the message of Lamentations come alive. All who preach and teach will benefit from this rich resource.
Interpretation: A Bible Commentary for Teaching and Preaching is a distinctive resource for those who interpret the Bible in the church. Planned and written specifically for teaching and preaching needs, this critically acclaimed biblical commentary is a major contribution to scholarship and ministry.

About the Author:
F. W. Dobbs-Allsopp is Associate Professor of Old Testament at Princeton Theological Seminary in Princeton, New Jersey. He is coauthor of Two Early Alphabetic Inscriptions from the Wadi el-Hol and Hebrew Inscriptions: Texts from the Biblical Period of the Monarchy, with Concordance.