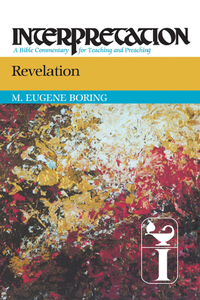 Interpretation New Testament Commentary: Revelation
A Bible Commentary for Teaching and Preaching
Product Details
Throughout the history of Christianity, the book of Revelation has had an enormous influence in religion, history, and culture, and it still has an urgently needed message for the church. M. Eugene Boring's critical assessment of Revelation enlightens readers as to just what that message is.
Interpretation: A Bible Commentary for Teaching and Preaching is a distinctive resource for those who interpret the Bible in the church. Planned and written specifically for teaching and preaching needs, this critically acclaimed biblical commentary is a major contribution to scholarship and ministry.

About the Author:
M. Eugene Boring is I. Wylie Briscoe Professor of New Testament Emeritus at Brite Divinity School, Texas Christian University. He is the author of numerous books on the New Testament, including An Introduction to the New Testament, Mark from the New Testament Library series, and Revelation from the best-selling Interpretation series, all published by Westminster John Knox Press.