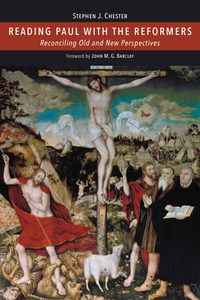 Reading Paul with the Reformers
Reconciling Old and New Perspectives
Product Details
In debates surrounding the New Perspective on Paul, the sixteenth-century Protestant Reformers are often characterized as the apostle's misinterpreters in chief. In this book Stephen Chester challenges that conception with a careful and nuanced reading of the Reformers' Pauline exegesis.

Examining the overall contours of early Reformation exegesis of Paul, Chester contrasts the Reformers with their Roman opponents and explores particular contributions made by such key figures as Luther, Melanchthon, and Calvin. He relates their insights to contemporary debates in Pauline theology about justification, union with Christ, and other central themes, arguing that their work remains a significant resource today.

Being published in the five-hundredth anniversary year of the Protestant Reformation, Reading Paul with the Reformers reclaims a robust, contemporary understanding of how the Reformers really read Paul.

About the Author:
Stephen J. Chester is professor of New Testament and academic dean at North Park Theological Seminary in Chicago. He is also the author of Conversion at Corinth: Perspectives on Conversion in Paul's Theology and the Corinthian Church.
Endorsements
In this remarkable book, the fruit of many years of reading and reflection, Stephen Chester has made a decisive intervention into Pauline scholarship that significantly alters the terrain. . . . Hours of futile disputes and reams of pages caricaturing the Reformers could have been avoided if Pauline scholars had known this material. From now on, if such caricatures persist, there will be a simple reply: 'read Chester before you speak or write on this again.' . . . Chester's work will surely fertilize Pauline scholarship for many decades to come.
For a scholarly generation, students of Paul have confidently treated the sixteenth-century Reformers as Paul's 'misinterpreters-in-chief.' Now Stephen Chester's patient and learned treatment of the Reformers' Pauline exegesis exposes both their thoughtfulness and their potential as wise conversation partners in the present. This is a major contribution to Pauline study.
It is rare to find a book on justification in Paul that is so original. Chester here displays remarkable learning, touching on historical fields most New Testament scholars know hardly anything about. Every scholar with an interest in Pauline soteriology should read this book.
If Sanders's Paul and Palestinian Judaism did much to correct existing caricatures of early Judaism, it introduced a period in which many Pauline scholars were content to repeat caricatures of Luther and other Reformers. Chester's diligent research in this book renders future misrepresentations inexcusable; at the same time, it shows how critical engagement with the Reformers can alert us to overlooked aspects of Paul's thought. A most impressive and timely contribution to current debates.