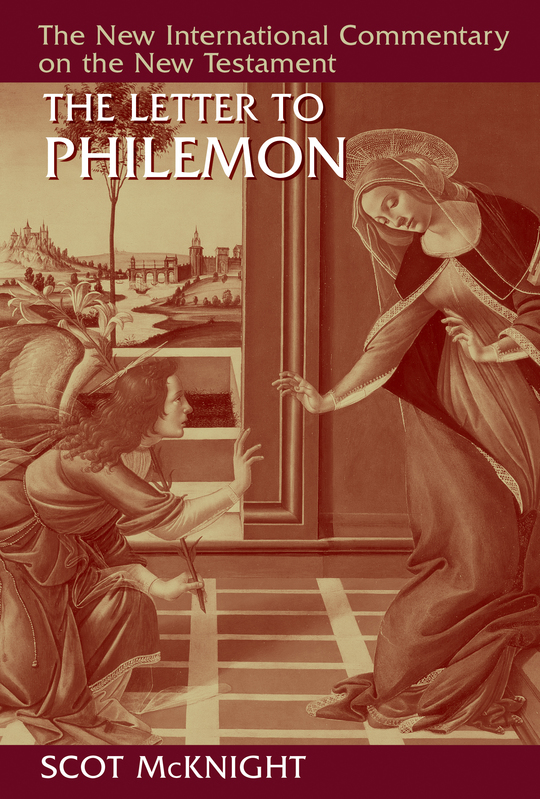 NICNT: The Letter to Philemon (2017)
Product Details
Paul urges Philemon to challenge social barriers and establish new realities of conduct and fellowship. His letter is nevertheless a disturbing text that has been used to justify slavery. Though brief, the letter to Philemon requires and rewards close scrutiny.
In this commentary Scot McKnight carefully analyzes the text of Philemon and brings its entanglement with ancient Roman slavery into conversation with modern slavery. Too often, McKnight says, studies of this short letter gloss over the issue of slavery. Christians who want to read Philemon faithfully must grapple with moral questions, personal and institutional, that Paul himself does not raise. Pastors and scholars will find in McKnight's commentary the insight they need to teach this controversial short book in meaningful new ways.
About the New International Commentary New Testament Series

". . . undertaken to provide earnest students of the New Testament with an exposition that is thorough and abreast of modern scholarship and at the same time loyal to the Scriptures as the infallible Word of God."
This statement reflects the underlying purpose of The New International Commentary on the New Testament. Begun in the late 1940s by an international team of New Testament scholars, the NICNT series has become recognized by pastors, students, and scholars alike as a critical yet orthodox commentary marked by solid biblical scholarship within the evangelical Protestant tradition.
While based on a thorough study of the Greek text, the commentary introductions and expositions contain a minimum of Greek references. The NICNT authors evaluate significant textual problems and take into account the most important exegetical literature. More technical aspects — such as grammatical, textual, and historical problems — are dealt with in footnotes, special notes, and appendixes.
Under the general editorship of three outstanding New Testament scholars — first Ned Stonehouse (Westminster Theological Seminary, Philadelphia), then F. F. Bruce (University of Manchester, England), and now Gordon D. Fee (Regent College, Vancouver, British Columbia) — the NICNT series has continued to develop over the years. In order to keep the commentary "new" and conversant with contemporary scholarship, the NICNT volumes have been — and will be — revised or replaced as necessary.
The newer NICNT volumes in particular take into account the role of recent rhetorical and sociological inquiry in elucidating the meaning of the text, and they also exhibit concern for the theology and application of the text. As the NICNT series is ever brought up to date, it will continue to find ongoing usefulness as an established guide to the New Testament text.
About the Author:
Scot McKnight is the Julius R. Mantey Professor of New Testament at Northern Seminary, Lombard, Illinois. His many other books include
The Jesus Creed: Loving God, Loving Others; A Community Called Atonement;
NIV Application Commentary volumes on Galatians and 1 Peter; and (coedited with James D. G. Dunn)
The Historical Jesus in Recent Research
.
Endorsements
Scot McKnight has given us a bold study of this controversial little letter. He stares unflinchingly into the realities of slavery. . . . Working from conservative positions on critical issues, McKnight sees the letter to Philemon as demanding that the church today work in society to bring reconciliation and liberation to a world in need of both.
With thoughtful attention to the painful realities of Roman slavery, McKnight invites churches to approach this 'deeply disturbing letter' as an invitation to become spaces of reconciliation, communities that subvert slavery 'by naming it, by fighting against it, and by embodying a new way of life.'
A lucid and illuminating verse-by-verse analysis of Paul's letter to Philemon. Scot McKnight soberly tackles the topics of Roman slavery, reconciliation, and Paul's vision for churches to be dominated not by power relationships but by sibling-like relationships rooted in the new creation. McKnight makes this small letter stand tall among the writings of the Pauline corpus. A sheer joy to read!
This commentary is a helpful addition to scholarship on the shortest of Paul's letters. However, it is more than that. It allows readers to appreciate how this brief text might speak afresh to situations of oppression, powerlessness and modern slavery. Those probing insights make this a highly significant book.