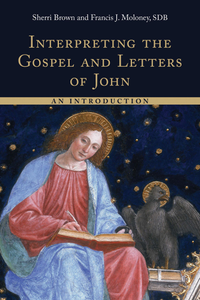 Interpreting the Gospel and Letters of John
An Introduction
Product Details
Accessible, comprehensive, and up-to-date, Interpreting the Gospel and Letters of John is an ideal text for students new to the discipline of biblical studies. Sherri Brown and Francis Moloney present a broad overview of the story of Christianity arising out of its Jewish foundations and proceed expertly to guide readers through the contents of the Gospel and Letters of John.

Maintaining that Johannine literature is best understood against the background of the Old Testament covenant meta-phor, Brown and Moloney focus on the central role of covenant in the narrative of John's Gospel and highlight the Evangelist's use of fulfillment language. Helpful sidebars, maps, questions for review, and further reading sections are placed throughout the text, making this volume perfect for classroom use.

About the Authors:
Francis J. Moloney, SDB, is senior professorial fellow at Australian Catholic University. His many other books include commentaries on the Gospel of John and the Gospel of Mark.

Sherri Brown is assistant professor of New Testament at Creighton University, Omaha, Nebraska, and the author of several works, including God's Promise: Covenant Relationship in John.
Endorsements
Combining the skills of the teacher and the excellence of sound scholarship, Sherri Brown and Francis Moloney have produced a fine resource to guide students on their journey into the wisdom and world of John. Brown and Moloney's big-picture approach embraces Israel's story, Rome's world, and the church's beginnings as a framework for a careful reading of the biblical texts. This is an introduction filled with innovation and insight, a delight for learner and teacher alike.
In this exceptional textbook Brown and Moloney accomplish a herculean task. They offer not only a full commentary and close reading of the Johannine Literature (Gospel and Letters!) but also combine this fine work with introductions to foundational methodologies for biblical interpretation, the history of Israel and early Christianity, and the Bible as Sacred Scripture. In this way, they masterfully open up the world in, behind, and in front of the text. Concluding each chapter with key terms, questions for review, and a bibliography for further reading, the authors have provided an outstanding tool for the classroom and beyond.