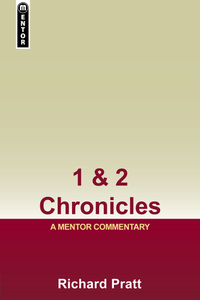 A Mentor Commentary: 1 & 2 Chronicles
Product Details
The book of Chronicles (1&2) is one of the most neglected portions of Scripture. Many find its complex history unfamiliar and assume that it is irrelevant for contemporary life.
To grasp the significance of Chronicles for our times, we must first understand its original meaning. It was written to encourage the Jews to be faithful to God (and not focus on material prosperity) on their return from Babylon. Pratt looks skilfully at the big picture in each section and presents the detail in an absorbing way.
The
Mentor Commentary Series
maintains a conservative theological tradition whilst interacting with modern theologians from other backgrounds.
The Mentor Commentary is an exegetical commentary, with authors who hold a high view of Scripture. This means it takes a verse-by-verse approach to examining and explaining each text that comes from the ancient languages. Greek and Hebrew words are discussed, but no language training is necessary. What you get is refreshing new insight into each verse. In Wordsearch, these volumes contain tons of Scripture cross-references that are all hyperlinks. By simply hovering your cursor over each link, you can quickly read each reference in its entirety.
About the Author:
Richard L. Pratt is the president of Third Millennium Ministries. He is adjunct professor of Old Testament at Reformed Theological Seminary, and a visiting professor at Covenant Theological Seminary. He is an ordained minister in the Presbyterian Church in America, and travels extensively to evangelize and teach.